My latest article in Platinum business magazine looking at the future outlook of the economy and a review of the budget.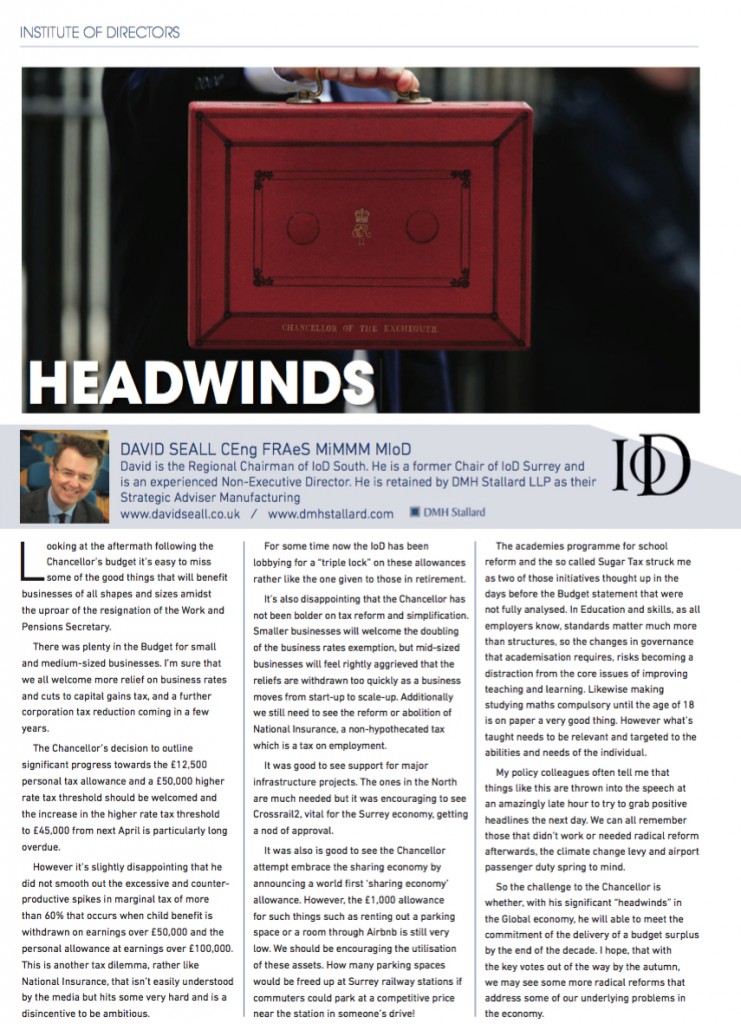 the full magazine can be found here
My latest column in South East Business Magazine discussed the current poor performance of communications, both mobile and fixed line broadband, in this country.
At the same time, my IoD colleague Dan Lewis produced a report echoing my concerns on the subject stating
"Now is the time to set a bold new target for genuinely world-beating broadband. We have the leading internet economy in the G20, and yet download speeds are mediocre and the coverage of fibre optic cable is woeful. The demand for data is growing exceptionally fast, and with Virtual Reality and the Internet of Things just around the corner, about to grow even faster. But our network is behind the curve. Unfortunately, the Government's current target displays a distinct poverty of ambition."
I can't help but agree!
The IoD article and report can be found here.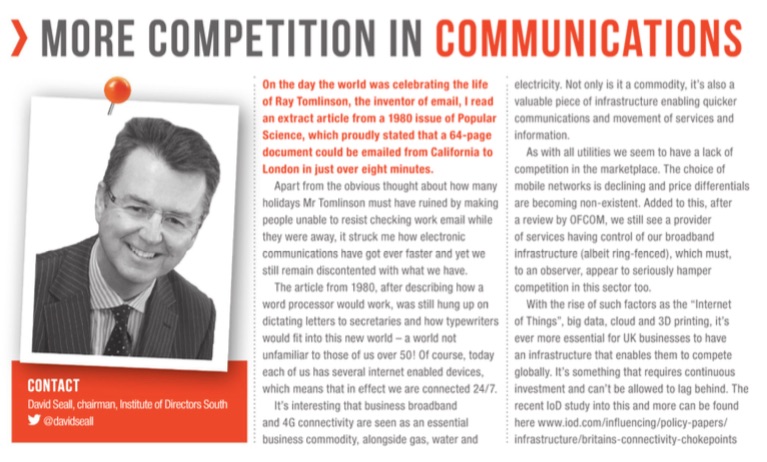 The South East business magazine can be found here
May latest article from Platinum Business magazine showcasing latest activity at IoD South.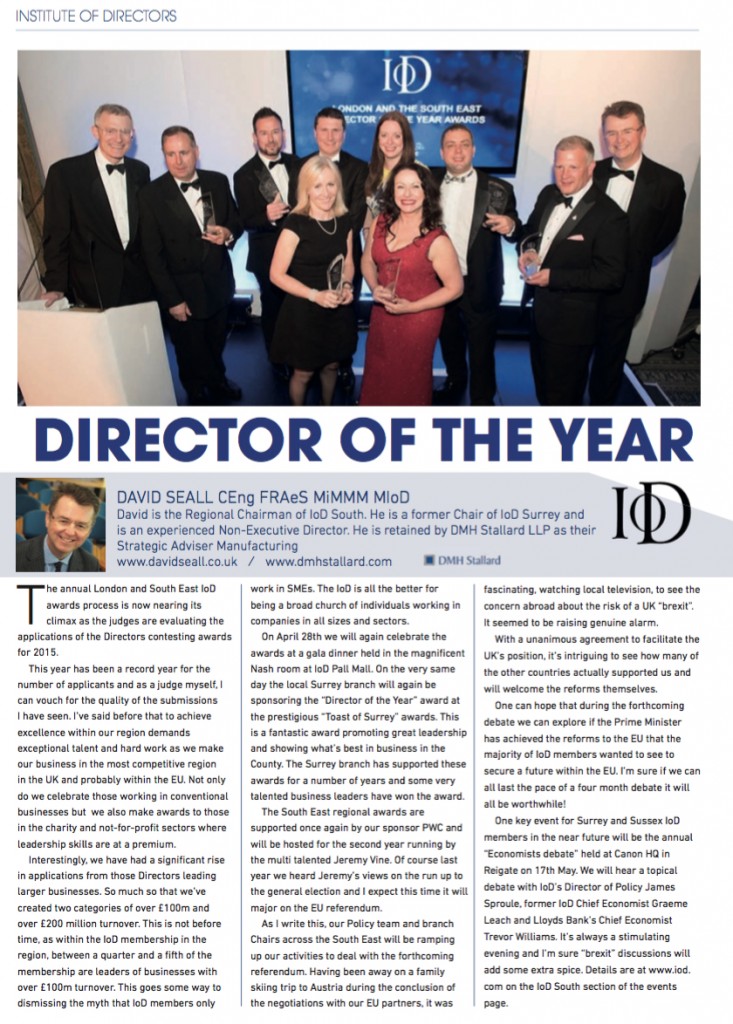 The full article can be found here
I recently wrote about the demise of the Business Growth Service. It was particularly sad to also see the end of the Manufacturing Advisory Service, MAS. Having been part of the EEF South team that originated the service in London and the South East I can't help but fondly remember the businesses that were supported by our "hands on " approach aided by a very capable in-house team. This certainly helped many turn the corner onto a journey toward world class performance.
As I mentioned, I'm now a Non-Executive Director at Cavendish Enterprise which is delivering the "Start & Grow" programme providing much needed long term support to businesses in areas where every help is needed. You can find out about it here.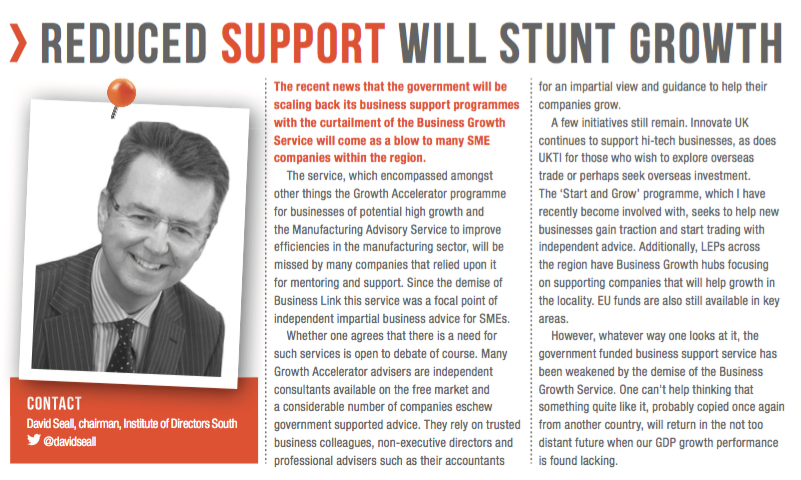 The full article can be found here
My latest article in Platinum Business magazine discussing the government's latest tax deal with Google and how nation states struggle to deal with the dominant multi-nationals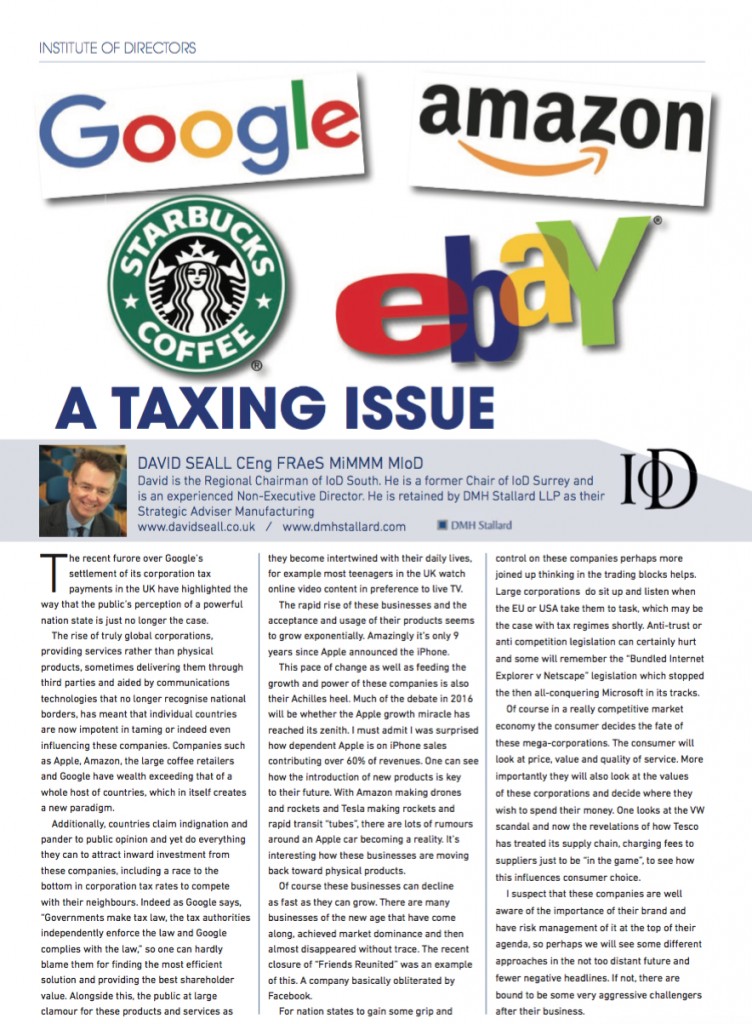 The full article can be found here
I recently wrote in Platinum Business Magazine about security of energy supply, particularly with the future rise in electric vehicles requiring extra capacity from the national grid.
We are facing a crisis in energy capacity due to a woeful lack of investment over the years in a sustainable energy infrastructure from a variety of sources.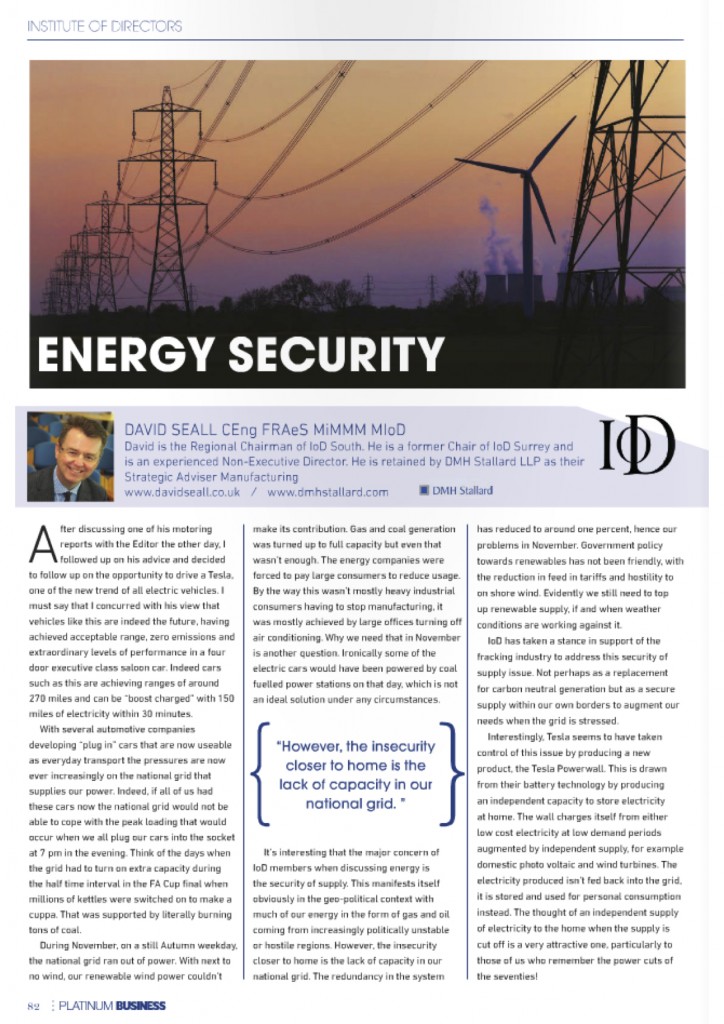 The full article can be found here
I recently co-authored an article for LexisNexis with colleagues from DMH Stallard about the ethical sourcing of materials and the pressures on manufacturers to adhere to ethical standards.
The full article can be found here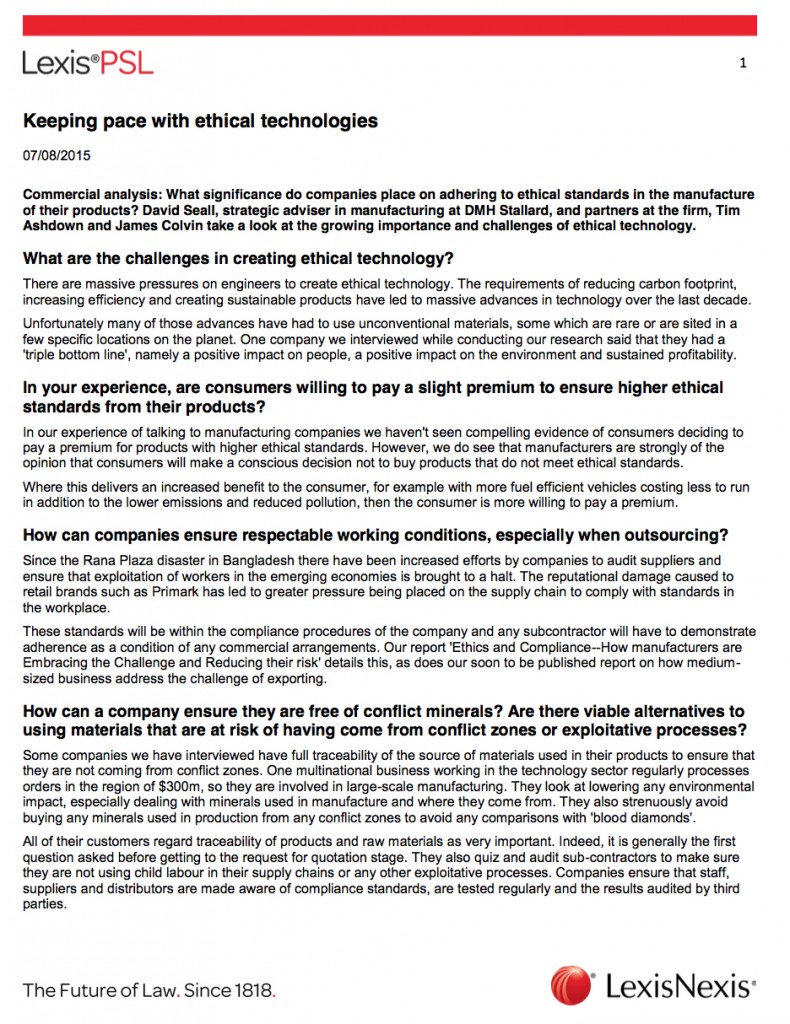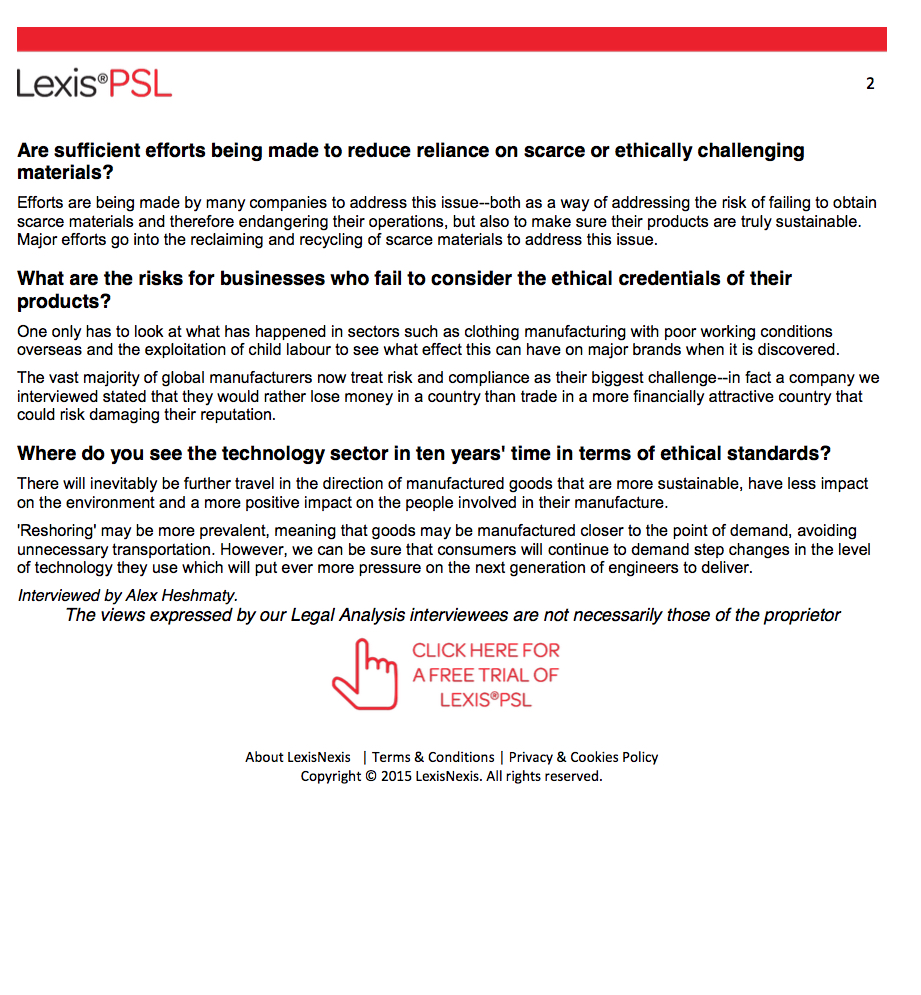 My column for the November issue of Platinum Business magazine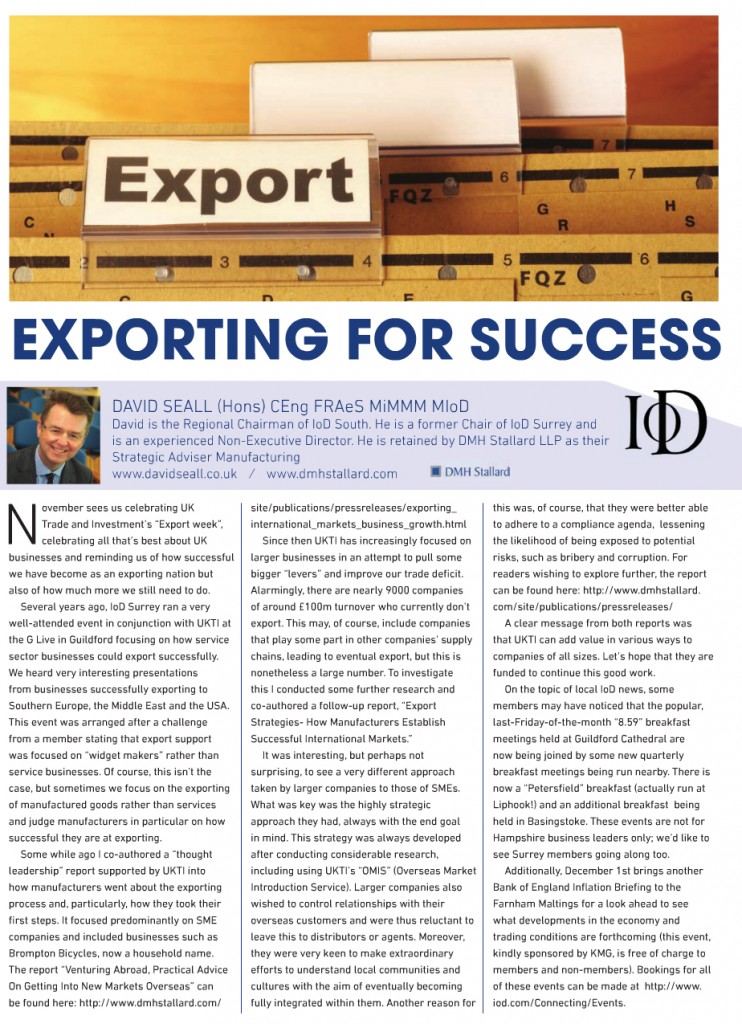 My December 2016 article for Platinum Business magazine looking forward to issues that will be facing us in 2016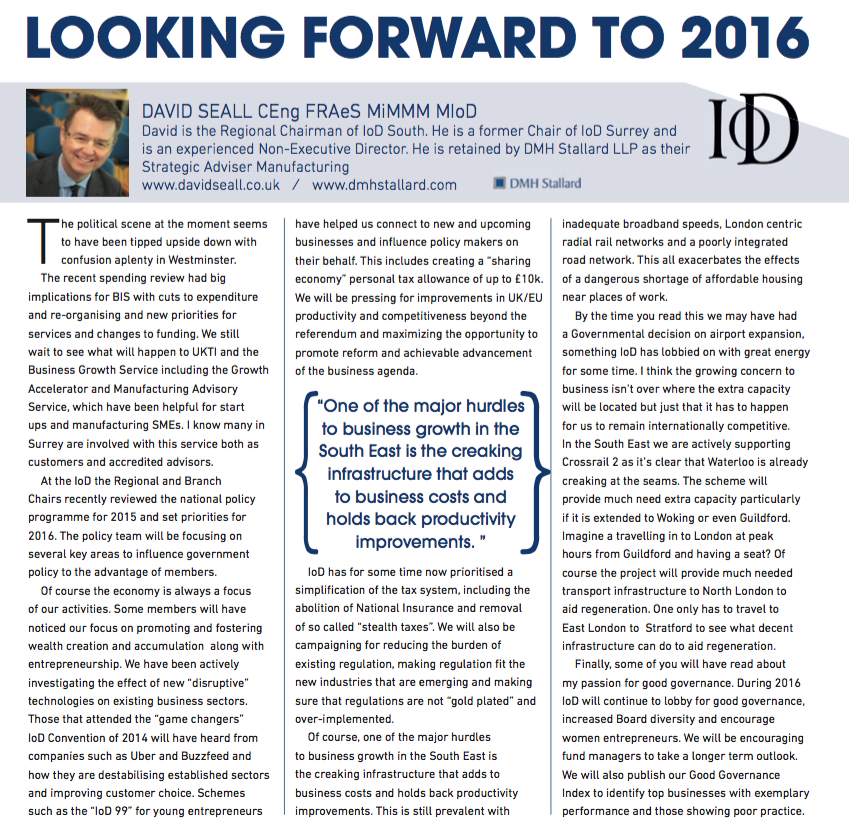 The full magazine can be found here
My latest article in South East Business magazine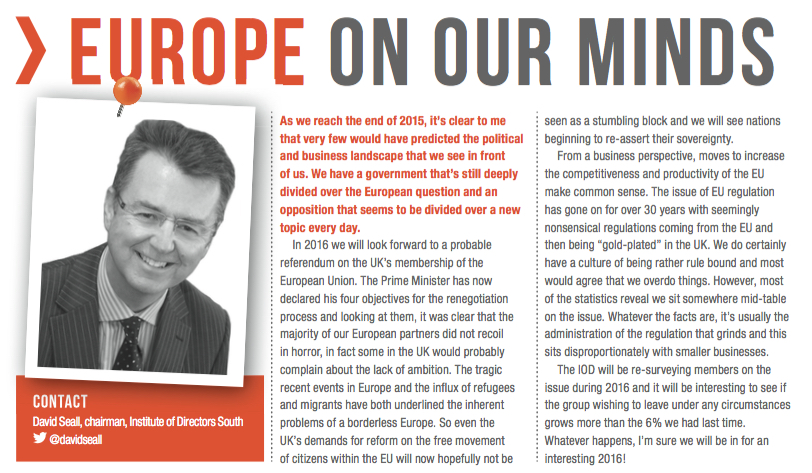 the full article can be found here