It's a great honour to have been selected to be the Regional Chairman and I'm busy now getting on with the challenge.
I will be making a point of getting out to branches during the year and seeing how branches are engaging with members and delivering events and activities. I'm keen to explore three main topics of interest during my Chairmanship, the thing that springs to mind with is is the three "p"s.
The first of these is promoting the "best Practice" of branches and promulgating these across the region. Although members are able to go to any event they want to, regardless of which branch they are members of, I'll be looking to explore which events and programmes really work well and whether they can be run by all or most of the branches to improve the value to members across the region. We will also be working more closely with the London branches to make these more coordinated with our region as I know many of you are in London during the working day. London acts a focal point for us and is an easy place to travel to.
The second strand is one of improving our impact on Policy matters. The present government has moved activities from a regional to a more "local" level. Although we could argue that some of the "local" levels are almost the same size as some old regions and that Westminster still has a big hold on things. We will be comparing what branches are doing on the local policy front and encouraging engagement and also looking at what impact we can make if we work more closely together. We all know that the South has major issues with things like infrastructure, affordable housing and skills so we will be looking to make an impact in those and other areas.
The final area we will be working on is to "Punch our weight" with major stakeholders in a more joined up way. This may either be to obtain sponsorship for events across the region, promote regional/national initiatives that will benefit members or do more "combination" activities where branches work together. To me the IoD is about promoting the best standards in leadership to its members. We can do this at branch level by providing events and programmes that provide information or learning experiences that encourage a development of leadership skills and entrepreneurship.
It's a hugely and enjoyable role to have and I'm enjoying working with the branch Chairman across the region to see how we can make a difference and help businesses of all sizes thrive and grow.

I recently posted a blog on the Ramsey Hall website about the often mis-interpreted subject of performance management.
You can find it here http://www.ramseyhall.com/2014/08/07/how-to-implement-an-effective-performance-management-system/?preview=true&preview_id=3718&preview_nonce=ebfc60a982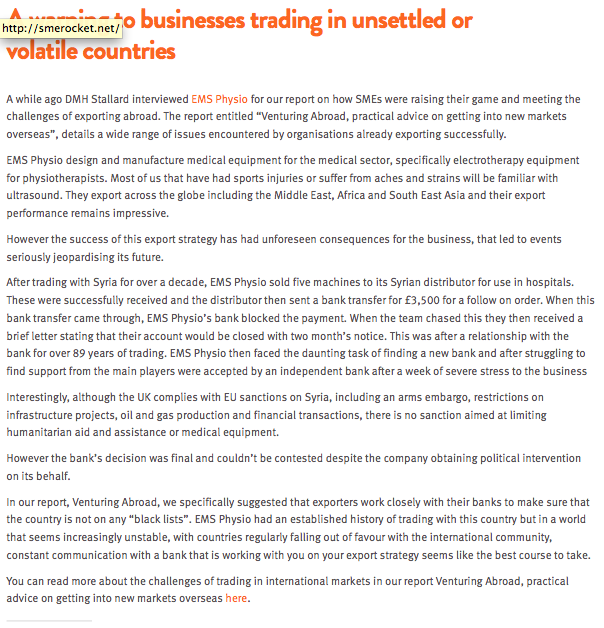 You can fine the full article here
http://smerocket.net/2014/08/11/exporting-volatile-countries/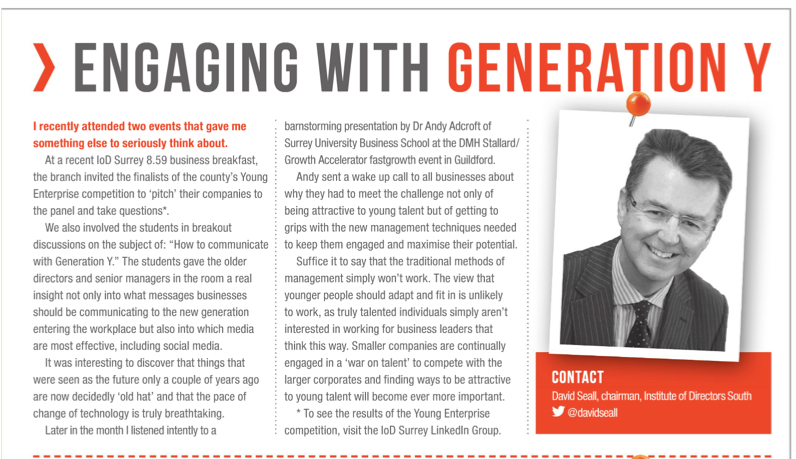 My latest article in South East Business Magazine
The article can be found here http://www.southeastbusiness.com/print-edition/august-2014

Theses are two recent blogs I have written about improving your performance in the Boardroom
http://www.ramseyhall.com/2014/07/10/how-to-assess-improve-your-boards-performance/
http://www.ramseyhall.com/2014/07/23/how-to-assess-improve-your-boards-performance-part-2-a-board-that-pulls-in-the-same-direction/


My latest column in South East Business Magazine- the full article can be found here http://www.southeastbusiness.com/print-edition/july-2014

This week heralds an important event in Britain's maritime history. On the 4th July, HM Queen will formally name HMS Queen Elizabeth at Rosyth Dockyard. This long awaited aircraft carrier will be the largest ship ever used by the Royal Navy with a displacement of 65,000 tonnes, a length of 265m, width of 120 metres and is 68 metres tall (that's taller than Niagra Falls). Along with her sister ship HMS Prince of Wales, she is three times larger that the Invincible class carrier she replaces.
So apart from being a political football and a massive and sometimes controversial, statement projecting the UK's power and influence in peacetime, wartime and humanitarian crises – what effect will she have on our economy?
Well a little known fact is that despite advances in technology and air transport 95% of our traded produce travels by sea, that adds up to £524 million of imported goods. Globally 90% of world traded goods still travel by sea. Despite us feeling we are in "modern" times, piracy with unsecure trade routes is still an issue in some parts of the world. A global strategic footprint is still important.
HMS Queen Elizabeth will have a range of 8-10000 nautical miles and will serve for 50 years. It's highly probable that her final commanding officer is yet to be born!
However, as a manufacturing person the key thing to me is that this is an impressive example of how UK manufacturing can excel. Most will be aware that no single shipyard in the UK was big enough to build the ship by itself, so "modules" were constructed and transported to Roysth where the ship was finally assembled using a specially made crane that could lift over 1000 tonnes.
Frustratingly however this is just the tip of the iceberg in the sense of the overall value proposition. In terms of the South East some of the major ship modules were built in Portsmouth but many other high value systems and components were made by local companies such as Alfa Laval Ltd, based in Camberley, who made the heat exchangers for the fresh water system. Other components manufactured in the region include the communications system much of which was designed and made in Crawley, High Wycombe and Portsmouth and stores refrigeration which was made in Kent. The visual surveillance system and integrated navigation and bridge system was designed and made by two different companies in New Malden!
Not all of the systems are purely for military use either. Many have uses in the civil sector or utilise "commercial off the shelf" technology. It's unfortunate that these things are never discussed by the media as they aren't obvious and are sometimes difficult to explain. It's easier to visualise the large steel fabrications!
Of course eventually the carrier will have it's own air capability with both rotary and fixed wing aircraft. The carrier will fly F35B Lightning II "stealth" aircraft, of which 15% of the value and workshare will have been designed and manufactured in the UK, again much of which within London and the South East. These aircraft are the successors to Harrier and have vertical take off and landing capability- but with an infinitesimal amount of extra technology!
All of this design and manufacturing work is of very high added value, employing engineers and programme managers of the highest calibre. HMS Queen Elizabeth is a showcase of talent that enables these design and manufacture businesses to demonstrate their world class capabilities, export products globally to both military and civil projects and lead our a economy into export led sustainable growth.
For a full list of the companies that helped produce HMS Queen Elizabeth, follow this link http://www.aircraftcarrieralliance.co.uk/delivering-the-nations-flagships/representing-the-best-of-uk-industry.aspx  and to find out more about the ship go here http://www.royalnavy.mod.uk/QueenElizabeth
To see this article on the SME Rocket follow this link
http://smerocket.net/2014/07/03/sme_manufacturing_aircraft_carrier/

The recent debacle at Manchester United shows how important the need for succession planning is. The decision to allow Sir Alex Ferguson to anoint his "chosen one" successor, David Moyes in the role without a full and open recruitment process did not prove to be a success. Obviously there were other mitigating factors contributing to the failure but it does look from the outside that perhaps the wrong person was chosen.
Those with longer footballing memories will remember the debacle of Brian Clough's forty four day tenure at Leeds Utd when he replaced Don Revie ( who in turn was not an amazing success in the England job!). It was clear now that there was a colossal clash of cultures with Clough going to Elland Road, so just choosing the then most successful manager, to run the then most successful club wasn't as obvious decision as it appeared at the time. In fact Leeds lost their position of dominance as a result.
So it's clear that either handing succession planning to the current incumbent or just grabbing what you think is the best candidate out there without a considered approach is probably not the best idea.
Interestingly most organisations don't succession plan very well. This probably goes back to the fact that many don't do thorough risk management. Within a process of evaluating risks the issue of what happens to key staff should loom large. The chance of this happening, the effect of it, plus the proposed solution and who is responsible for carrying it out is essential as part of the risk management.
This risk management is essential both in owner managed "family" businesses and particularly charities, where all too often the Director or Chief Executive leaves and the Chair is left holding the baby after the notice period has been served and before a new incumbent can be found. This places even more pressure on the recruitment process and the temptation to "cut corners". In a family business it's key to be developing family members over along period of time so that they can build up the knowledge and experience to be a success in the roles they and the owner would want them to do. It's also essential that they are supported by the right cadre of senior staff to make their appointment a success
Risk management should be part of the "Management Review" system that is built into the processes and procedures that determine the operation of the enterprise.
So the key to start with in succession planning must be to have evaluated the risks to the enterprise of key staff leaving and have a plan in place both temporary and long term to manage it. Both the Chair and The Chief Executive should discuss this at regular intervals to determine strategy.
When a key member of staff leaves it's not always straightforward that the individual is replaced by a "clone". It could be an opportunity to change the management structure or bring in someone with a different set of skills and approaches that will help develop the enterprise strategically. Aligning the recruitment to strategic direction is key. "Buggins turn" or promoting from within or grabbing someone quickly from outside will not do.
In summary
Have key staff positions as an integral part of the risk management process
Evaluate and quantify the risks of losing key staff
Have a plan in place to deal with those risks that is in alignment with the strategy of the enterprise
Regularly review that plan
If it happens take the time and effort to manage the recruitment (or promotion) process properly
Make sure that the definition of the role and the experience and personality of the person to do that role aligns with the strategy
Use external help or opinion to test and evaluate your thoughts and approach
Consider restructuring your team as part of the process. A person leaving can be an opportunity not only a threat.
Make sure that the person recruited fits the dynamic of the team and the way you want the team to develop.
The full article can be found here
http://www.ramseyhall.com/2014/06/26/how-to-reduce-the-risk-of-future-failure-by-using-effective-succession-planning/

I'm very pleased to be joining the team at G&B Electronics Designs as Business Strategist.
G&B Electronic Manufacturing Services (EMS) specialise in supplying competitive electronic manufacturing services. Working closely with their customers G&B develop a bespoke electronic manufacturing outsourcing plan with the aim to drive down manufacturing costs and optimise the commercial benefits of outsourcing.
G&B have over 30 years contract electronic manufacturing experience and are strategically supporting a growing number of customers to increase their market share and enhance their reputation for quality by using their UK based manufacturing facilities.
I am retained by the company to help create and implement business growth strategies and develop strategic partnerships.