I recently co-authored an article for LexisNexis with colleagues from DMH Stallard about the ethical sourcing of materials and the pressures on manufacturers to adhere to ethical standards.
The full article can be found here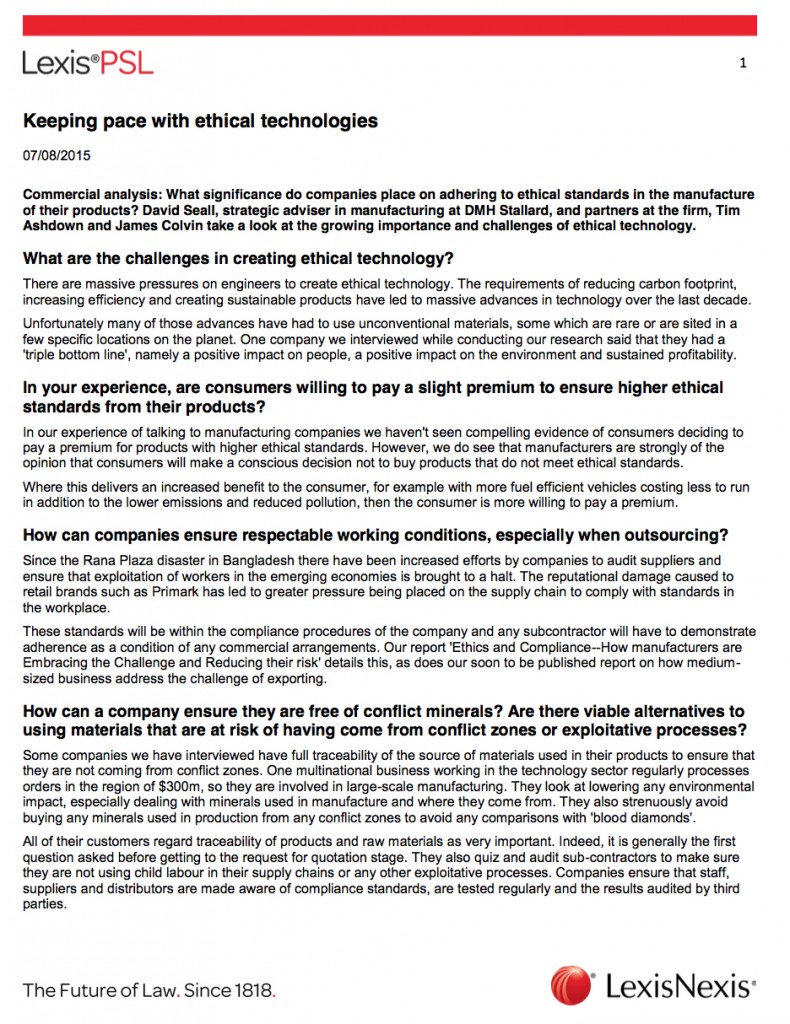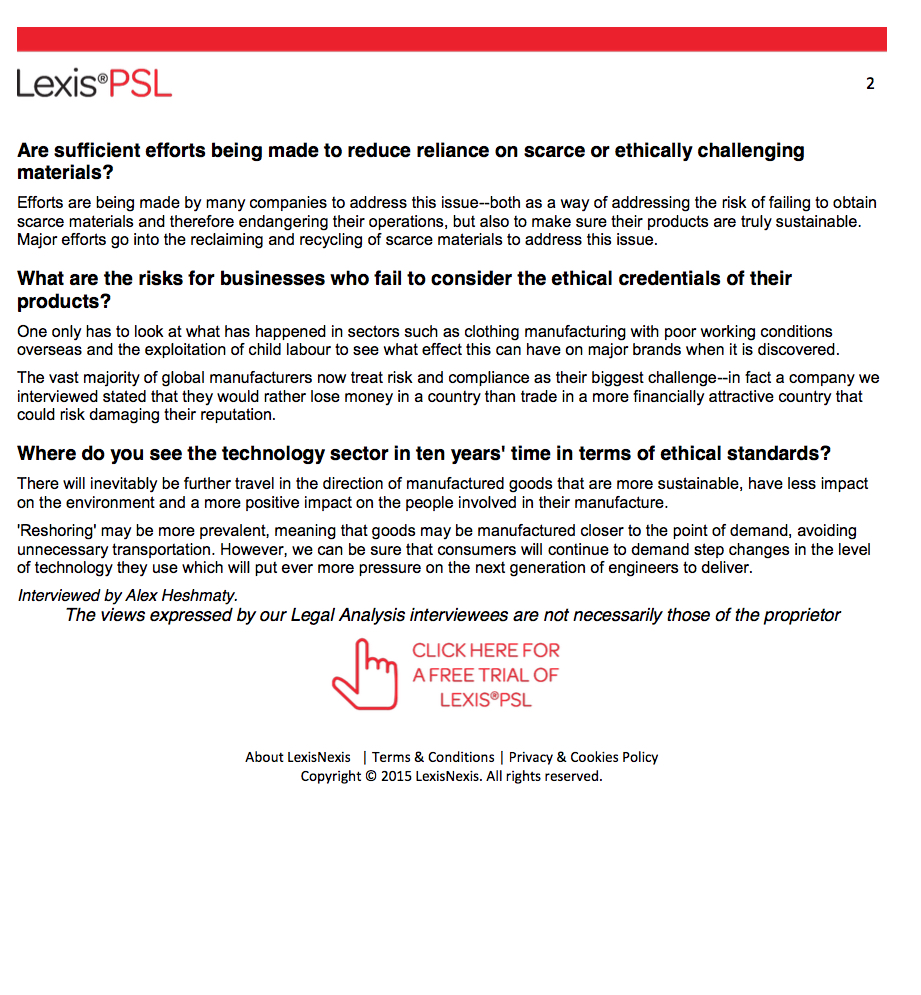 My column for the November issue of Platinum Business magazine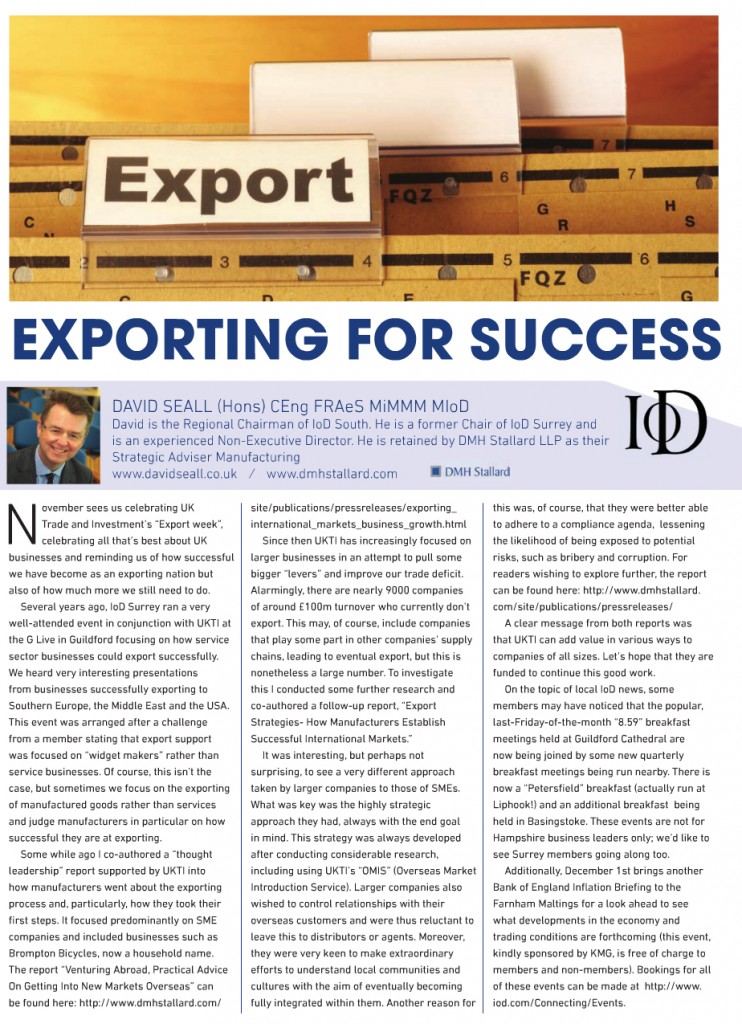 My December 2016 article for Platinum Business magazine looking forward to issues that will be facing us in 2016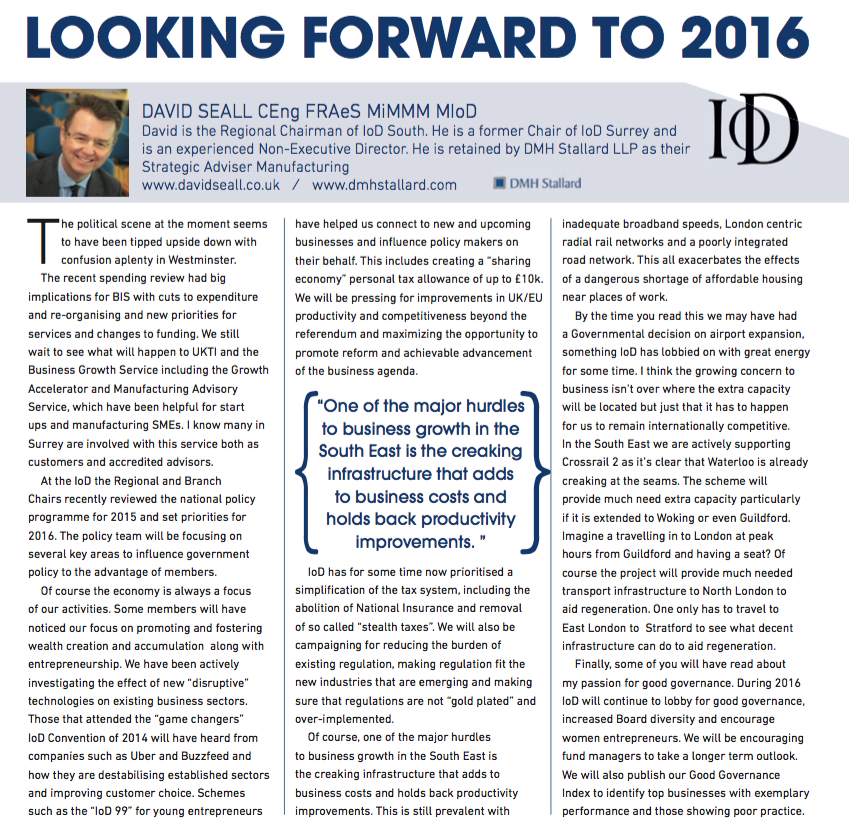 The full magazine can be found here
My latest article in South East Business magazine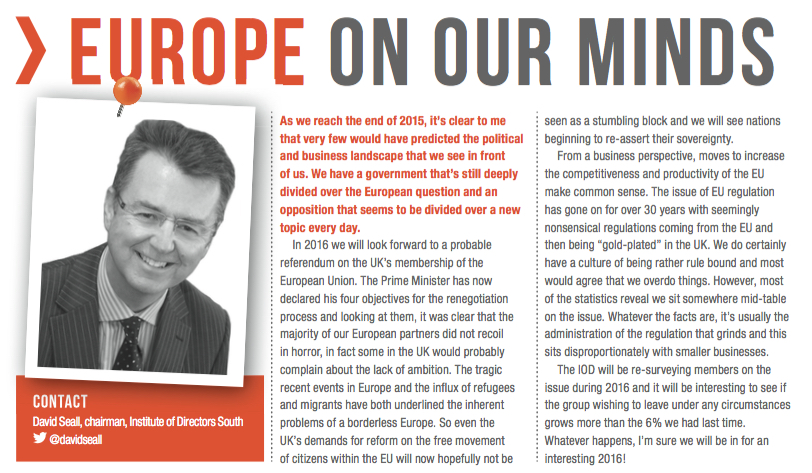 the full article can be found here 
I'm very pleased to have recently been appointed to the Board of the Cavendish Consortium. Cavendish Enterprise (the trading name of Cavendish Consortium Ltd) is a group made up of six of the largest enterprise agencies across England, together with the National Enterprise Network. Our members are amongst the most prominent not-for-profit enterprise agencies in the country, each with over 30 years' experience.
All of our members are longstanding agencies within the business support community, and are each respected for their independent and impartial advice and their impeccable probity. Cavendish Enterprise has a reputation for working in close partnership with a variety of organisations from the private, public and third sectors to achieve excellent results in business enterprise.
Recently, three of our members, Nwes, NBV, and Enterprise First, have come together to form Enterprise for London, an initiative to deliver the same support and access to finance within the boroughs of Greater London as the consortium members are delivering across the rest of the country.
Through working together we have successfully delivered government initiatives such as the Growth Vouchers scheme and Ready for Business programme, to thousands of businesses in England. The benefits to these businesses have been both financial and supportive, with qualified advice and training from expert business advisors within each region. By providing support and finance, we are proactively helping the economy by creating jobs, and partnerships for the benefit of both the local and wider communities.
Our most recent initiative, Start & Grow, is funded by the Regional Growth Fund and delivers support and training to potential entrepreneurs across England. The programme is available to those looking to start a business which expects to employ people from its early stages and where start-up financing will be required to get the venture off the ground.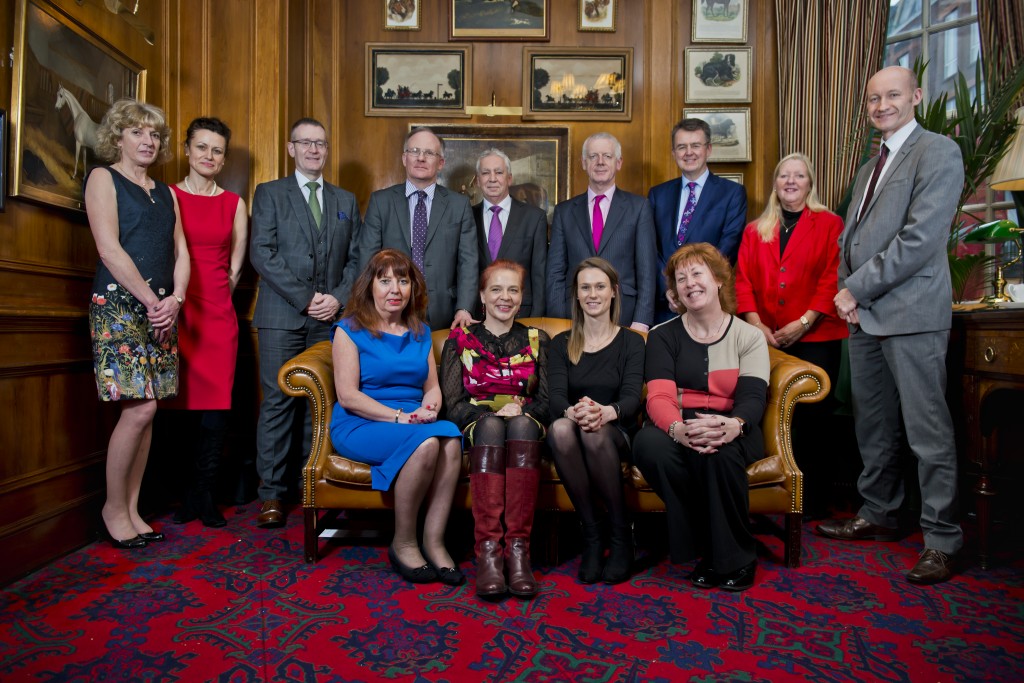 With every day that passes we see a further unravelling of the disaster that's affecting VW Group. It's been interesting to see how this has affected their multitude of brands and how it will impact on new models, R&D and motorsport programmes.
A further development of the story was the amazing "transfer" of a Non-Executive Director from the Daimler AG Board to its ailing competitor. The reason being that Daimler  were worried that the saga was permanently damaging the image of  German manufacturing.
Christine Hohmann-Dennhardt will take up a Board position on 1st January to oversee "integrity and legal affairs". She will be the first woman on the VW Board of Managers. One can't help thinking that a lack of Board diversity led to some of their problems in the first place. Certainly an all-male culture probably wouldn't have helped.
Unfortunately, by leaving the Daimler AG Board she will leave them with an all male Board unless she is replaced appropriately, so let's hope that they act accordingly.
The global impact of this debacle is huge and in the UK alone the total number of cars affected is as follows
VW passenger cars – 508,276

Audi – 393,450

SEAT – 76,773

Skoda – 131,569

VW commercial vehicles – 79,838
That all adds up to 1,189,906!
The potential consequential costs to consumers and businesses could be huge and I'll probably cover that in another post.
Interestingly I recently attended an excellent event at IoD Pall Mall, where the issue of Boardroom culture was discussed following a keynote speech by Baroness Neville-Rolfe the BIS Minister. A panel of experts agreed that greater diversity within a Board was a pre-requisite, one could say essential, when achieving good governance. An interesting outcome was a test  for any business to determine how they would define what business culture is and then describe the culture of their own business to a stranger. Thought provoking stuff!
Also there were some interesting "red flags" identified to identify a company with poor culture
A Board that was "too comfortable"
An excessively confident CEO
Lack of challenging on the Board
A feeling of perfection leading to complacency
I'm sure we've all seen one or two of those.
My latest article in Platinum Business magazine covers this topic and can be found here.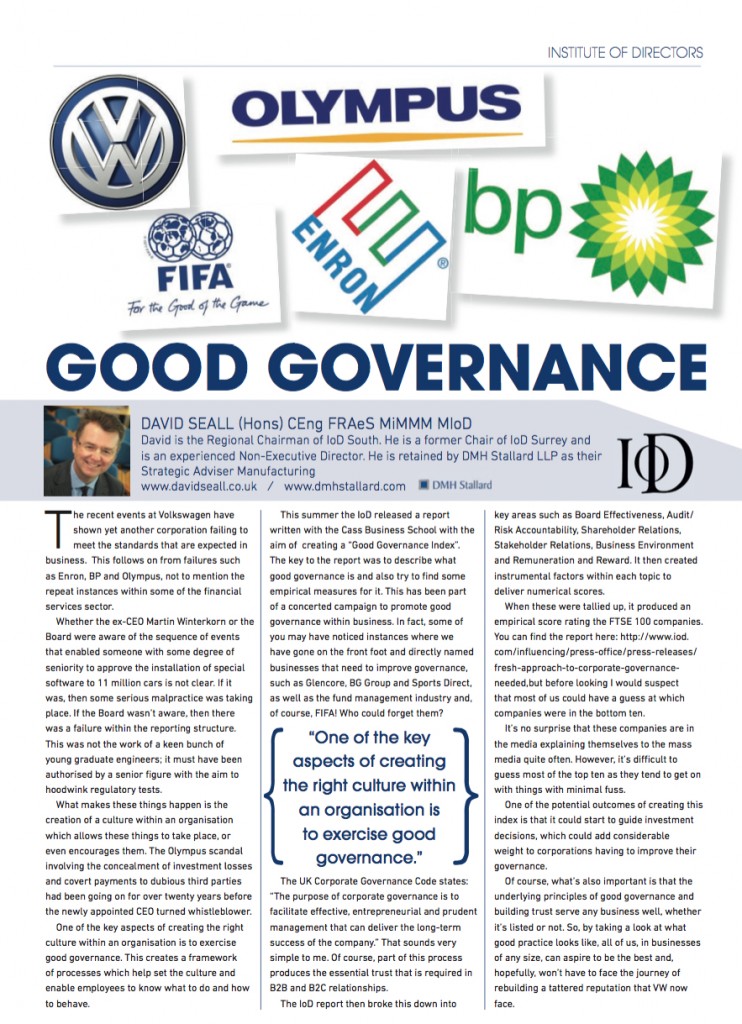 The full magazine can be found here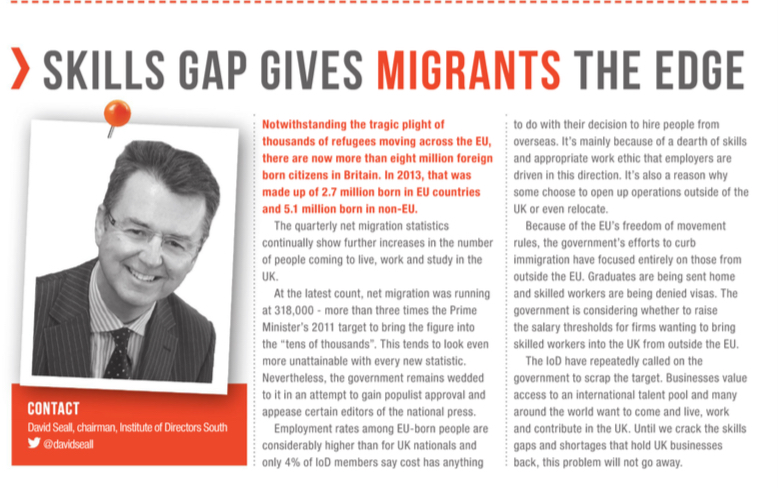 My recent article in South East Business Magazine discusses the thorny topic of immigration and what it means for the business community.
Immigration seems to be a political "hot potato" for any Government but the events of the last few months have made it top of the news agenda.
The UK Government's position of achieving a net migration figure of 100,000 (which includes foreign students who make a considerable contribution to our balance of payments by the way) has led it into position where it is at odds with much of the business community. In fact the Home Secretary  Theresa May's speech at the recent Conservative Party Conference was greeted by the IoD Director General Simon Walker as "irresponsible rhetoric" and "nonsense"  http://www.iod.com/influencing/press-office/press-releases/businesses-astonished-by-anti-immigration-rhetoric
All pretty heated stuff!
You can find the copy of my article here http://www.southeastbusiness.com/print-edition/october-november-2015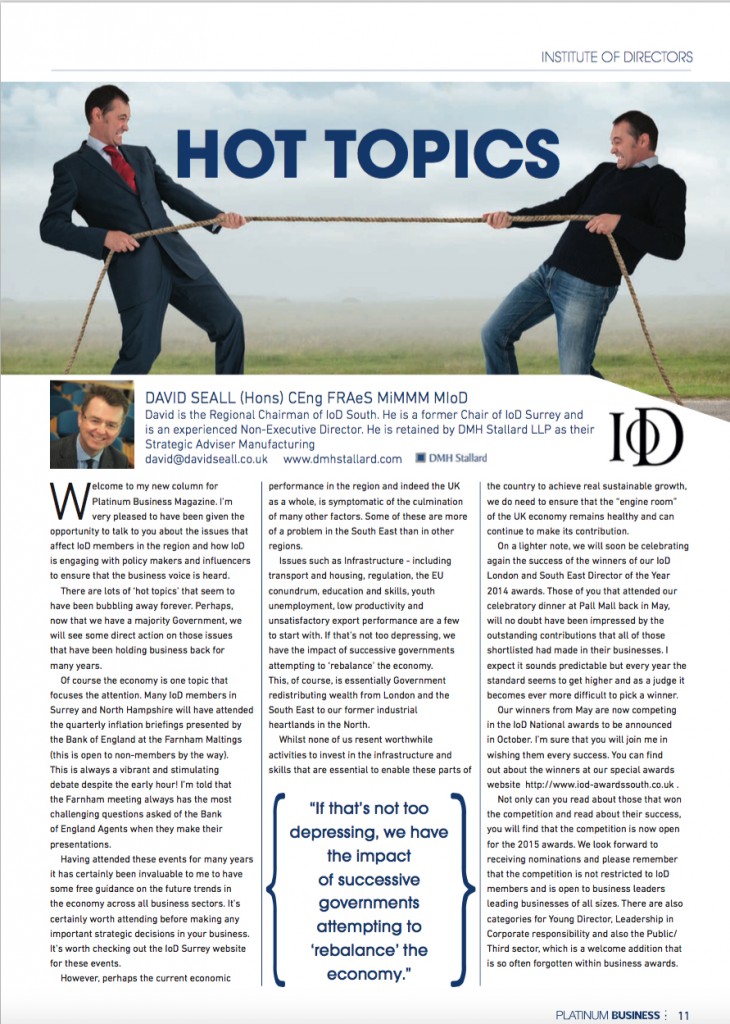 Mt new column in Platinum Business magazine launched this month, some more contentious topics to come for sure!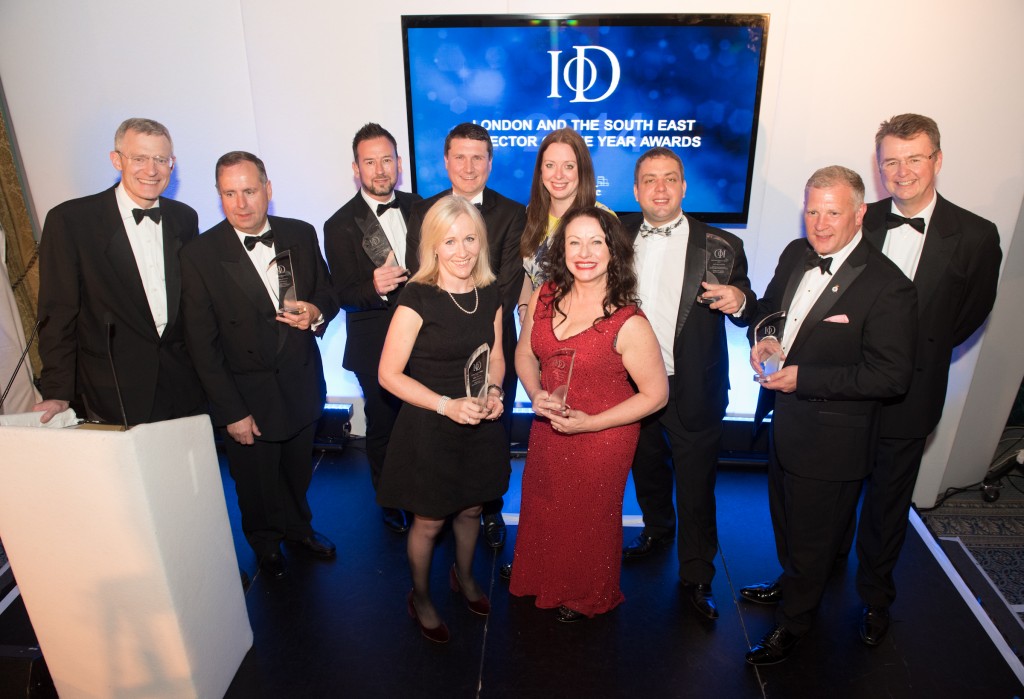 Those of you who attended the  Gala Dinner  for the IoD London and South East Director of the Year awards back in the spring, will I'm sure like me, have been very impressed with the excellent leadership demonstrated by those nominated.
The nomination process for the 2015 awards has now begun and the new website can be found here http://www.iod-awards.co.uk
The categories include
Small Company
Open to directors of companies with an annual turnover of under £9.99M.
Medium Company
Open to directors of companies with an annual turnover of £10M-£99.99M.
Large Company
Open to directors of companies with an annual turnover of over £100M.
International
Open to all directors in UK-based companies with overseas sales. The entrant must be able to show that a minimum of 25% of the company's turnover comes from overseas sales and must be successful in exporting, and committed to continued growth in the international arena.
Young Director
Open to directors under the age of 42 on the closing dates for entries, who are able to point to outstanding achievements over the past 12 months.
Family Business
Open to directors in the second-generation or more family businesses and will have responded to the specific challenges that face directors in such well established firms.
Leadership in Corporate Responsibility
Open to those directors who are able to demonstrate that, through their direct actions and leadership, their business has made a positive impact on the local community, wider society and/or the environment.
Public/Third Sector
Open to directors in the public sector as well as those working in the third sector and other charitable or not-for-profit organisations.
As always, both members and non-members can be nominated so if you know of an exceptional candidate please visit the website and nominate them.
Let's celebrate success and reward those who go the extra mile.
My latest article for South East Business Magazine on the issue of good governance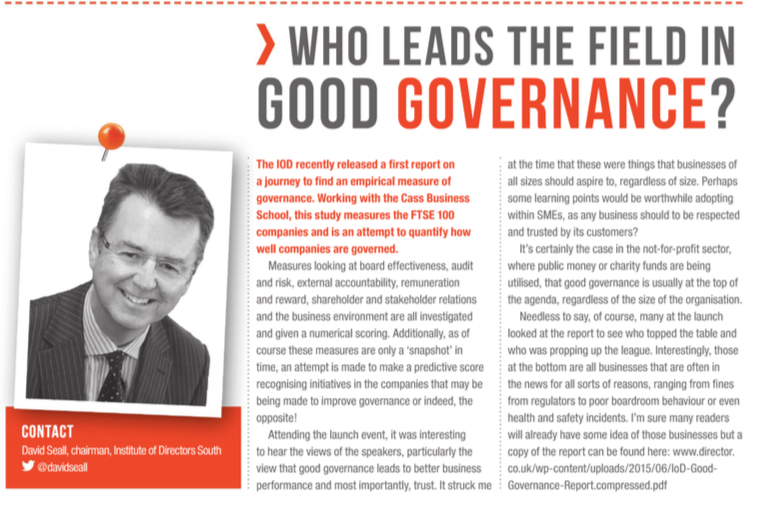 You can find the full article here SE Business article
You can find the full IoD report here IoD report