On Mental Health Awareness day last week Oakleaf Enterprise released the following video
I thought it was pretty inspiring, showing how Oakleaf helps clients.
Oakleaf offers training in horticulture, upholstery, IT and print finishing, enabling people to acquire new skills and ultimately return to work. Alongside these it offers a range of Social Inclusion Activities that cater towards building confidence, physical health and wellbeing.
Through their placement at Oakleaf, our clients are able to gain up-to-date qualifications, practical experience and increase their confidence levels.
As you may know I'm a Trustee at Oakleaf. It's a fantastic place to work and one of the most rewarding things I've ever done.
Some may be wondering what that cycling phot0 is up on my banner at the moment.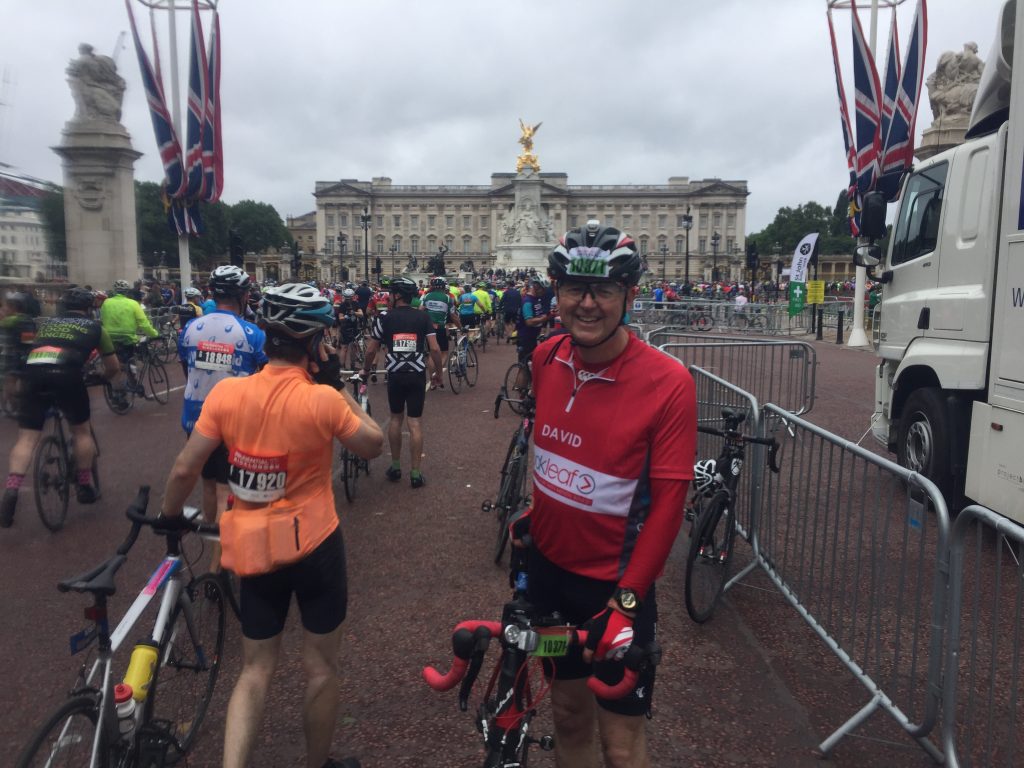 Last summer I rode the Prudential Ride London for the Charity. A one hundered mile ride around London and Surrey. I managed to raise £2000 for the charity through my efforts. Many thanks to all of the sponsors and supporters and if you want to help further you can donate here.
Here's my Strava of the day
It was a pleasure to Chair the recent APMG event in Westminster with our keynote speaker
Bill Esterson MP
, Shadow Minister for Business and International Trade. It was a lively discussion with excellent contributions from Lee Hopley, Will McGarrigle and Chris White along with a select group of engineering and manufacturing businesses.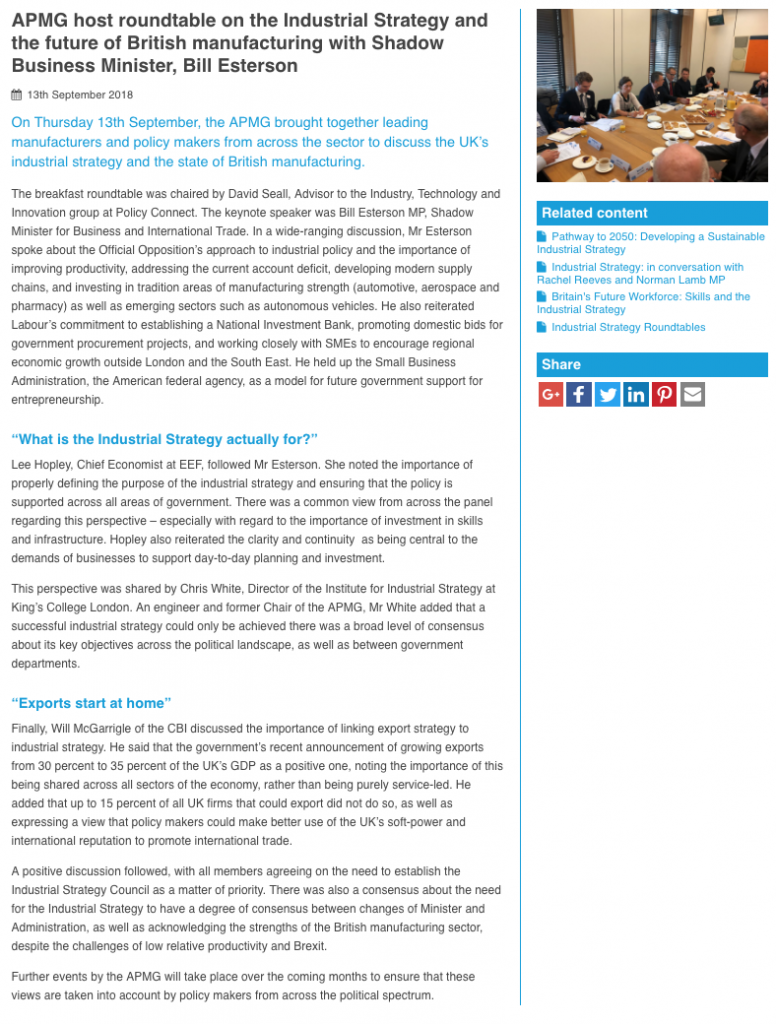 I recently posted an article on LinkedIn from "The Engineer" outlining the best way to get a job in engineering post graduation.
The comments below the article from graduates struggling to find work resonated with me. The common theme that emerged and that was holding the graduates back was a lack of industrial experience. This, in an industry that is perpetually stating that key skills shortages are a major barrier to growth.
Having recently assisted in a recruitment exercise for a position at a manufacturing company we found that many, very suitable candidates were ineligible due to a complete lack of any shop floor experience. I would add that this was essential for the role.
It was saddening to see that many had no manufacturing experience and had mostly worked in retail. Of course this does show an admirable work ethic, working long and unsociable hours and the ability to engage with customers face to face but it would mean that they were ill prepared for the work in hand.
So one has to ask why had these young people not obtained experience? Some had completed engineering degrees without any industrial placement constituent within company. This obviously would have helped. It's well known that "sandwich" degrees do usually result in creating opportunity for work post-graduation. Some had also received little help in building a CV from the careers support staff. None had completed holiday internships.
Of course there are other schemes that work around University study to create a link between undergraduates and business. Most schools try to place 16 year olds in a week of internship before GCSEs.
The "Year in Industry" scheme is a great way of students taking a year out before University to work full time in engineering and manufacturing businesses. Having been a judge for many years at their "contribution to the business" awards, I have seen some amazing results achieved by young people, working in a supportive environment, that question the status quo and go on to make real change in the business. The development of new IP and the cost savings on the shop floor are incredible. I remember a young Steph McGovern of BBC fame collecting an award for her work on six sigma at Black and Decker.
The Arkwright Scholarship is another scheme that sifts out the elite of under 16s to support them in their sixth forms studies on the way to an engineering degree. Having tried some of the past papers when my son obtained a scholarship I can confirm that they aren't easy!
The beauty of both schemes is that suitable candidates go through a vigorous process before acceptance onto the scheme. This takes a huge burden off of the participating business. I would add that there are many other schemes operating in this space.
However one of the key things that hold these schemes and others back is a lack of industrial engagement and support. The Year in Industry scheme works incredibly hard to obtain placement positions from businesses. It should not be that hard to sell, as the benefits are obvious. Additionally when my son obtained his Arkwright scholarship approximately half of the scholars were supported by charitable trusts and Livery companies. Not the businesses that need this talent.
It seems bizarre that rather than cultivating talent, businesses enter the merry-go-round of expensive graduate recruitment rather than getting familiar with students at an early age.
It's interesting to note that the service sector, by and large, is committed to the concept of internships and works hard to remove barriers. Of course one cannot condone the year-long unpaid internships that in some sectors have been acceptable. They are both exploitative of the individual and perpetuate internships being the reserve of the well off who can subsidise their children. Some larger engineering companies support internships but most SMEs are not engaged.
Two weeks, to at the most a month, should be the length of any unpaid internships. If they are unpaid they should always be expensed.
Many service companies find space for interns in the summer holidays, reserve useful projects for them to be engaged with and give the interns appropriate support. Longer internships will pay the living wage or expenses. Unfortunately it's still true that many of these opportunities come from the networks of parents or friends of parents and that doesn't help those that aren't as well connected. At least however, there is a volume of these positions that gives the service sector businesses a real chance to attract and perhaps more importantly evaluate talent for the long term. This means that they are often ahead of the game at recruiting numerate, reasoning, engineering graduates.
So what can manufacturing businesses, particularly SMEs do to break the circle and help young people gain experience?
Remove internal barriers to taking on interns (Health and Safety, just too difficult to do etc)
Create a space on the company website where young people can express an interest in working with the company in some way.
Engage with schools and accept local 16 year olds for short term work experience (perhaps start by connecting with Teentech)
Engage with apprentice schemes and FE colleges to provide industrial experience
Log and keep a file of interesting things that would be useful to do for the company but you are just too busy to do (a young person would devour these)
Consider adopting a scheme such as Year In Industry and Arkwright Scholarships to tap into the talent pool (there are others)
Talk to a University about taking a "sandwich" student, an intern for the summer break or even suggesting topics for final year projects. Even better if you can find a University that conducts research into your technology of interest.
Use networks such as EEF, IoD engineering institutions, and social media, including LinkedIn, to promote the fact that they are open to internships.
Consider sponsoring students through higher education
Support apprentices through Degree Apprenticeships or day release study
There are other ways I'm sure and I look forward to hearing constructive comments.
It has been interesting to note that mental health has now risen as an issue on both the business and political agenda, hence the focus on it in in the media over the last few months and in the recent General Election.
Both the current Prime Minister and the Leader of the Opposition vehemently agree that something needs to be done to remove the stigma associated with mental health, which must be a first for these two individuals!
Having recently joined the Board of Oakleaf Enterprise in Guildford, a Charity helping those affected with mental health issues in Surrey, it's clear that there's a significant demand for support services for those that need help and that we need to improve health service provision to assist those affected. http://www.oakleaf-enterprise.org/
The "safe haven" at the premises at the premises every evening 365 days a year, is always busy helping those needing help or just someone to talk to. Quotes from clients such as
"Oakleaf has helped me to stay out of hospital. Also, I don't feel judged here, so thank you" make being a Trustee and helping in a small way so rewarding.
A focus of Oakleaf is the need to develop and improve the confidence of those that have been affected and enable them to make a contribution to society particularly in the workplace. A respected manager I used to work for used to say to me that, "without confidence we all struggle and find it difficult to perform".
For far to long the subject of mental health has been a taboo in the workplace and been seen as secondary to that of physical health. With one in four of us struggling with mental health issues at some time in our lives it's an issue that cannot be ignored.
I recently wrote about the issue of addressing this stigmatisation.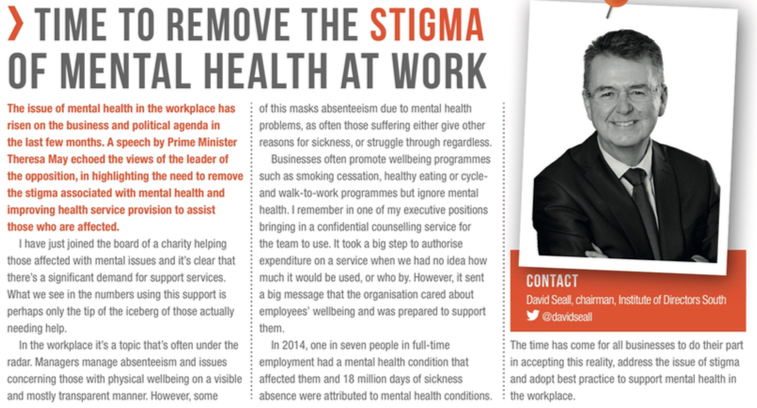 Since joining the advisory Board of the University of Surrey Business School it's been encouraging for me to see the good work being done to research how we can improve mental health and well being in the workplace.
A recent evening event in the SBS Business Lab featured the truly inspiring Geoff McDonald talking about his story of how he managed his anxiety induced depression and how he created supportive management structures to deal with in his organization and how he now advocates and supports organisations seeking to reduce anxiety and depression within their organisation.
Within the Business School here is a focus on quality of working life within organisations conducted by the People & Organisations Department, with one research cluster dedicated to research broadly within the domains of well-being, employee skills, job control, compensation and work and life quality.  The team actively contribute to the work of the British Psychological Society's Work and Health Working Party, and recently provided input on a Green Paper on Work, Mental Health and Disability, written by the Department for Work and Pensions and the Department for Health in the UK.
The report details a transformation of mental health care in England, aimed to help more and more people recover from mental health problems, supporting them to achieve greater well-being, build resilience and independence and optimise life chances.  The report is currently in draft stage.
In March, the IoD launched a major initiative to recognize the importance of good mental health in the workplace with the publication of the policy report "A little more conversation". https://www.iod.com/news-campaigns/mental-health
The report details the results of a recent IoD member survey exploring the subject. Interestingly nearly 98% of those surveyed see the importance of good mental health in the workforce as important with 81% seeing it very important.
It's recognized that poor mental health results in poor quality of work, poor decision making, conflict between colleagues and higher staff turnover. Over half of respondents had been approached by a staff member suffering from poor mental health. With 80% not having a formal mental health policy in place that alone makes a solution more problematic. Most SMEs relied on referring the employee to their GP.
As well as reporting on the issue the report also makes suggestions on how we can improve the situation. It recommends amongst other suggestions that Business leaders should institute formal mental health and wellbeing policies.
Also that Boards should appoint a non-executive director to work with the executive team to ensure mental health openness is culturally installed across an organisation.
Recently I wrote about how IoD leads the way in creating a Director of the Year Award for leaders advocating and acting upon improving mental health in the workplace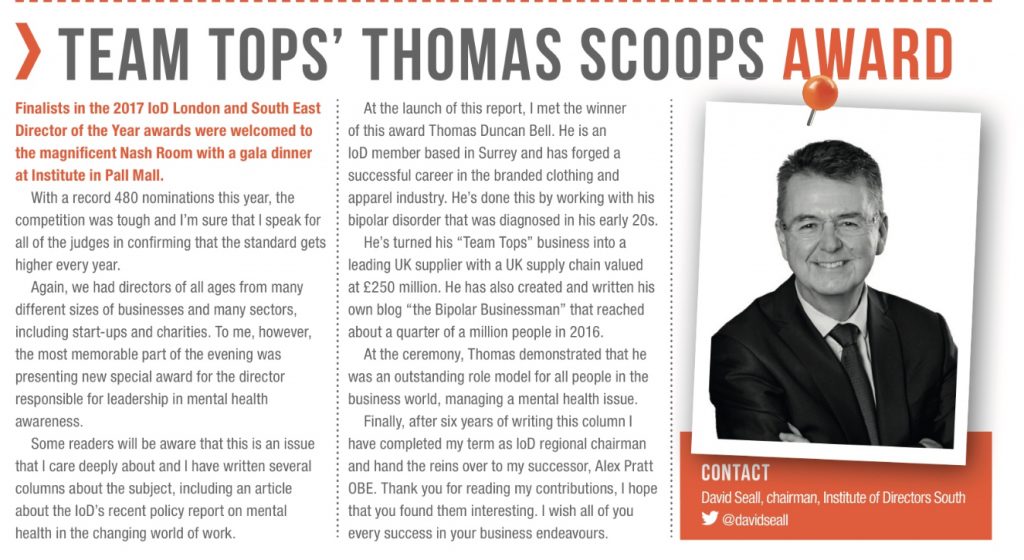 Hopefully we are beginning to develop a culture that it should be normal practice to break the taboo about mental health at work. We can now start dealing with it to maximize the potential of everyone and also improve productivity. We all need to tackle this difficult subject and I urge you to get involved and make workplaces across Surrey a better place and "start the conversation".
PS- A plea for help
On the 2nd July my son Alistair and I will be tackling the Farnham Charity bike ride 50 mile course on behalf of Oakleaf. We are cycling 50 miles (and 3000ft plus of climbing!) on the Farnham Charity Bike Ride & Sportive 2017 on 2nd July for Oakleaf Enterprise our fundraising page is here
Oakleaf is a fantastic charity that works hard to help people with mental health issues in Surrey. We haven't got a specific target but even the smallest donation will help as mental health is a really prominent issue in our country today, and small charities such as Oakleaf need as much support as we can give.
If you can't donate, Oakleaf have their own upholstery business – ideal to refresh those tired chairs or sofas. We also run a horticulture team who can look after all of those horrible garden tasks. Both of these enterprises help those who've suffered with mental health issues gain their confidence and get back into the world of work.
Just remember suicide is the single biggest killer for men under the age of 45, the staggering outcome for 2015 yielded an annual total of 6,188 deaths by suicide, equivalent to nearly 17 people per day. If this was a physical illness the country would be appalled by it.
Please help if you can
UPDATE on 3rd July
My son and I have now completed the ride if you can support us it would help a great cause – even £1 would help
50.3mi

Distance

3:29:53

Moving Time

3,511ft
132W
1,662kJ
Avg
Max
Speed
14.4mi/h
40.5mi/h
Heart Rate
140bpm
170bpm
Calories
1,853

Elapsed Time

3:54:47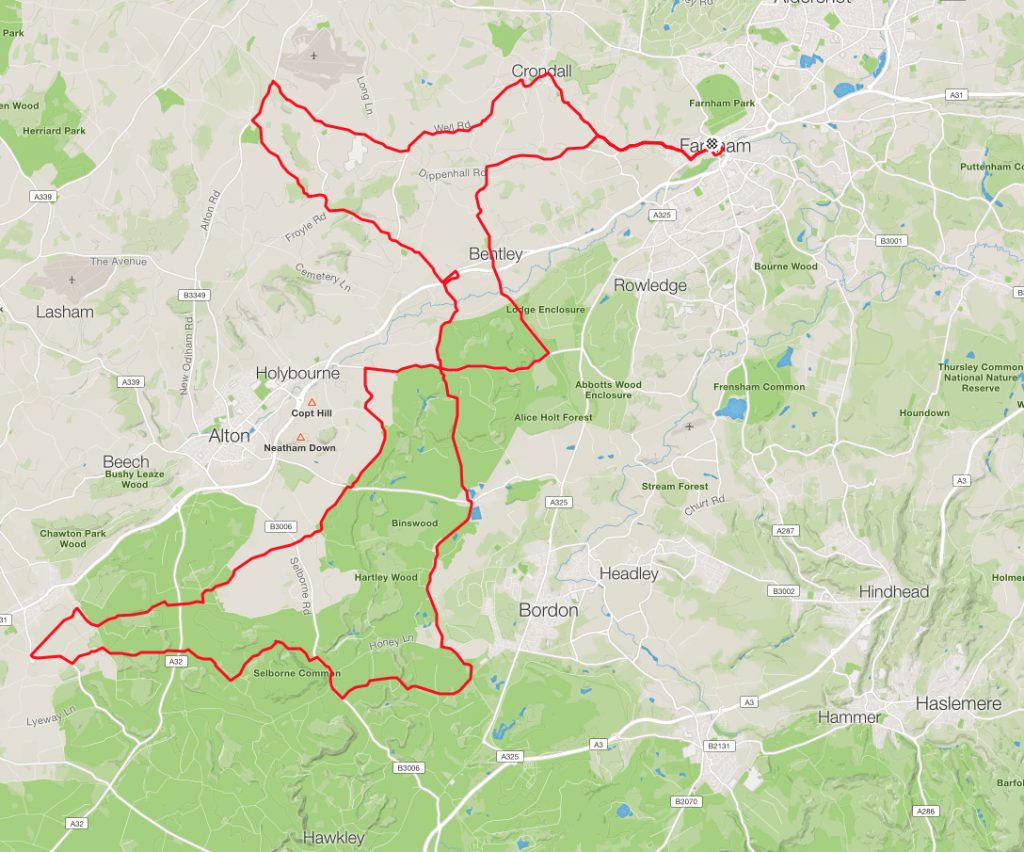 Over 14mph not bad for an old guy!
My recent column in South East Business magazine, the first of a series of articles dealing with mental health in the workplace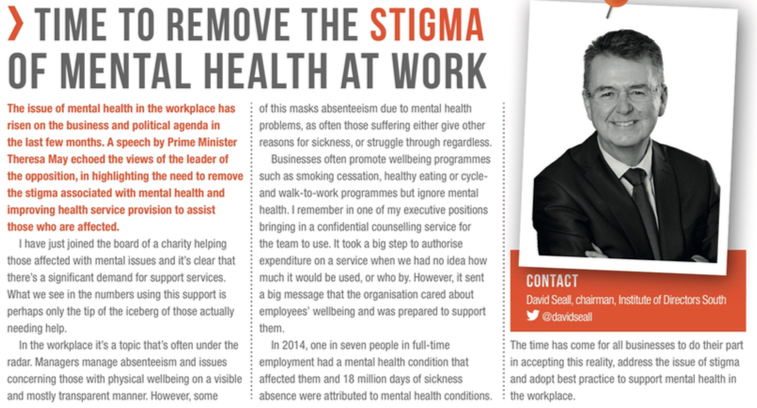 The full article can be found here
My thoughts on risk management for my column in South East Business Magazine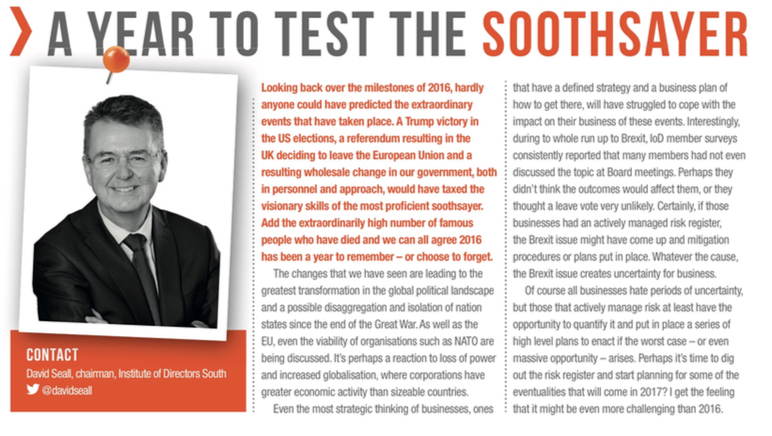 The full article can be found here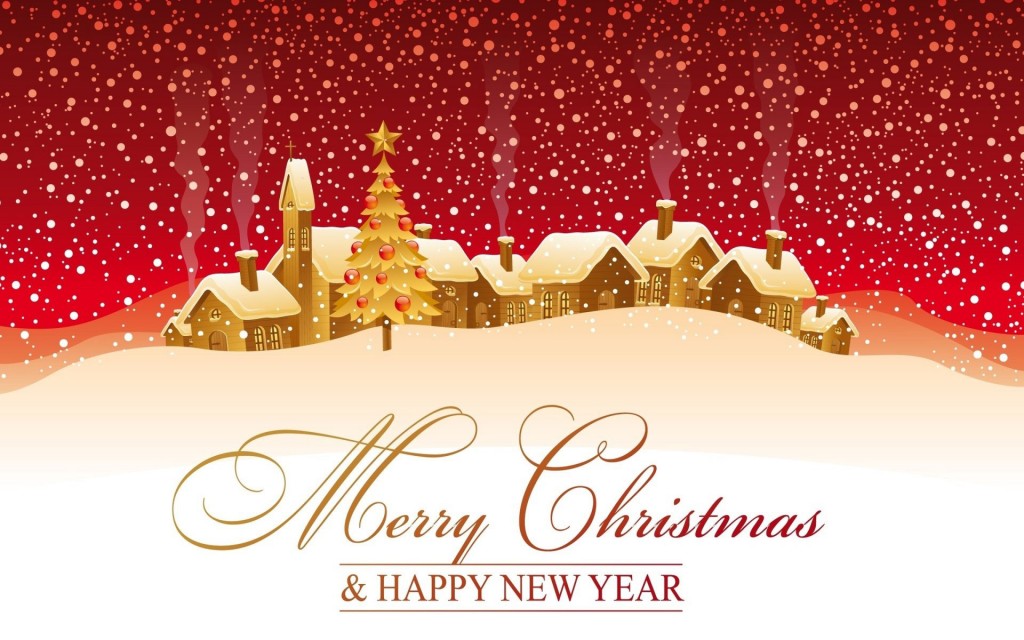 Wishing friends and colleagues a very Merry Christmas and a Prosperous 2017
A donation has been made to Macmillan Cancer Support    Please help by supporting this worthy cause.
One of the key issues holding back charities is the fight for sources of funding and income and the battle to reduce operating costs.
Working closely or partnering with outer charities is sometimes the answer.
More often than not it's the Trustees of the charities that hold things back, perhaps due to vested interests when the Executive can see partnership can significantly add value.
The attached paper was written six years ago but still rings true
I guess amongst all of the current concerns causing uncertainty for businesses, a major one is  immigration. Coming from a manufacturing background I realise how dependent many companies have become on migrants from central europe to plug serious skills gaps caused either by an education system geared toward academic qualifications rather than vocational skills or difficulty finding people with the correct work 'ethic".
Heer's my latest article in South East Business magazine discussing the topic.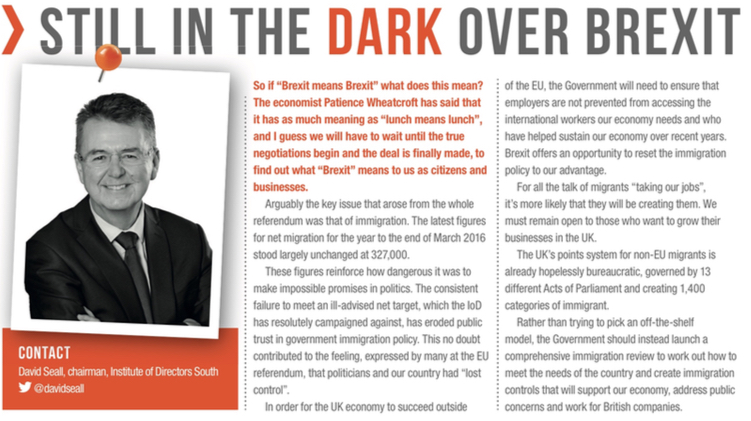 The article can be found here