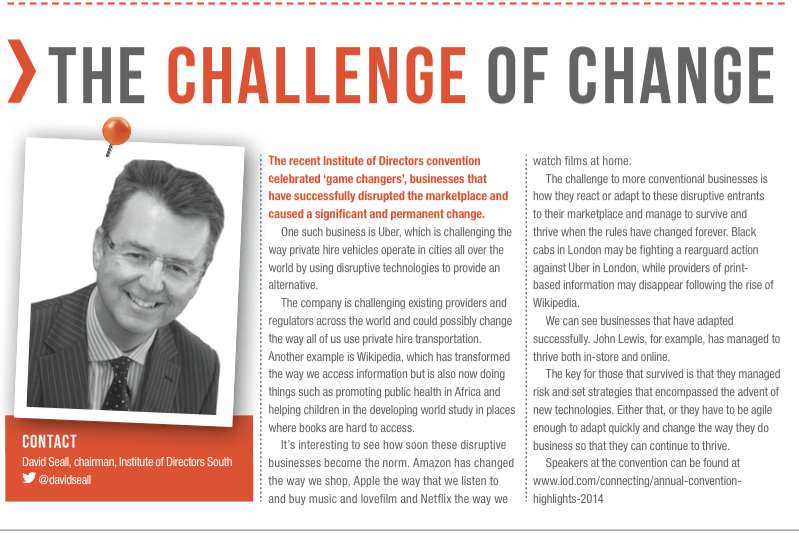 My latest article for South East Business magazine
The full article can be found here
http://www.southeastbusiness.com/print-edition/november-2014

I recently wrote a guest article for Zurich Insider detailing how smaller manufacturing companies could manage and mitigate risks to their business.
The article can be found here
http://insider.zurich.co.uk/market-expertise/managing-manufacturing-risk/

It was very interesting to be part of the IoD Council delegation to 10 Downing Street last week.
A lively debate with senior Ministers was held.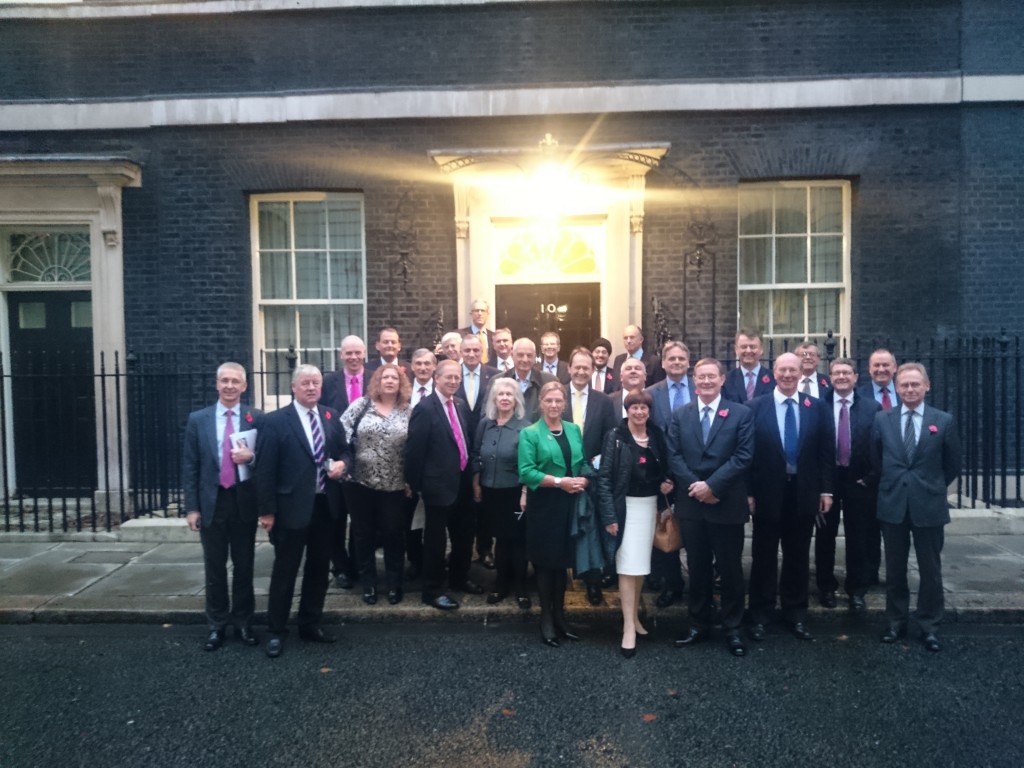 http://www.iod.com/influencing/policy-news/iod-delegation-meets-ministers-at-no10?utm_source=social-media&utm_medium=twitter&utm_content=policy-news&utm_campaign=IoD-no-10

My recent article on the Ramsey Hall blog about how to build an effective Board, what steps to take and some things to avoid.
http://www.ramseyhall.com/wp-content/uploads/Board-Performance-Final.pdf

My latest blog on the DMH Stallard "SME Rocket" is about a small business in Surrey with an innovative solution to help those confined to a wheelchair.
You can find the story here
http://smerocket.net/2014/10/09/sme-success-southeast-business/

My latest article in South East Business Magazine looking at the aftermath of the Scottish Referendum and the impact on the South East of England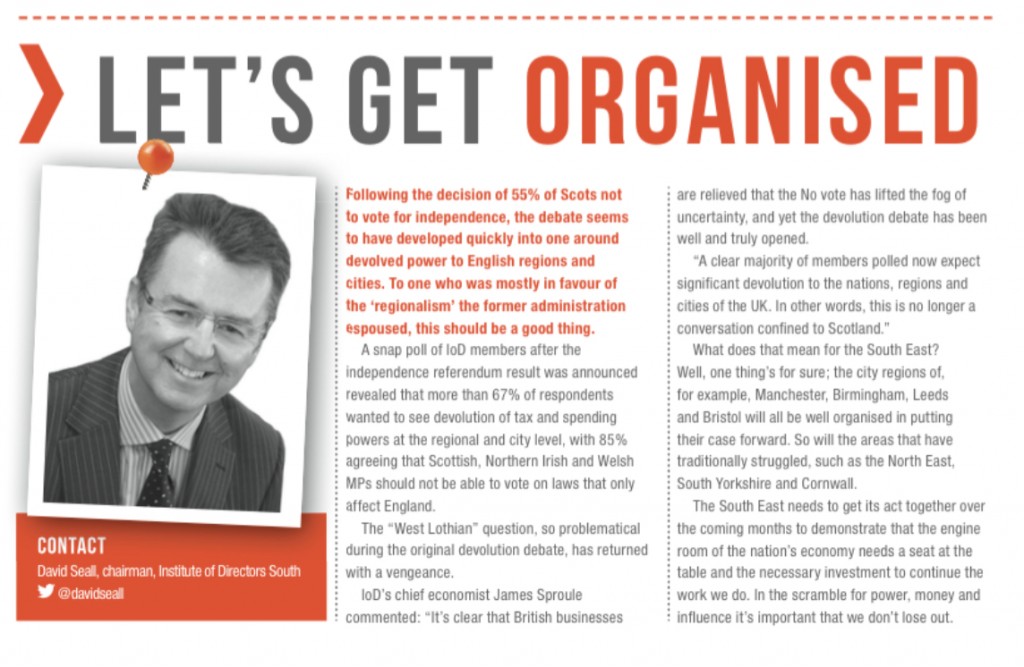 The article and full magazine can be found here  http://www.southeastbusiness.com/print-edition/october-2014

Nominations are now open for the IOD Director of the year awards for the South East.
The finalists will enjoy attending a marvellous dinner similar to the one we held at Pall Mall back in the summer. Lets hope that we get to see the best in business leadership again
You can enter here http://iod-awards.co.uk/Index.aspx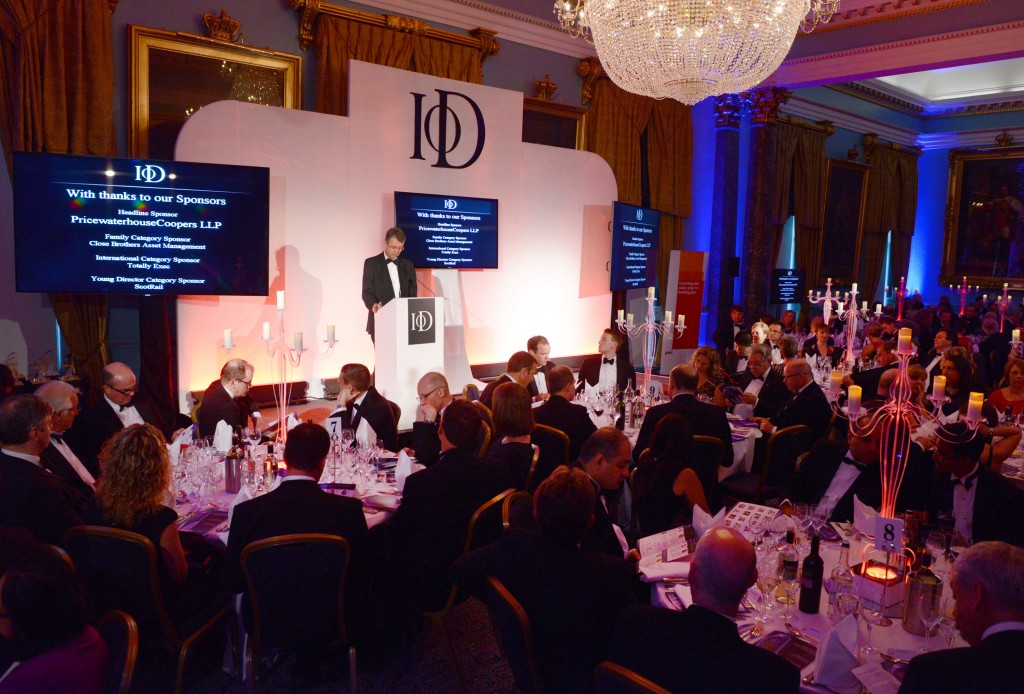 I seem to have created some sort of career interviewing people!
I have interviewed Charles Morgan former CEO of Morgan Cars and Stuart Garner CEO of Norton Motorcycles in front of a live audience at the Knowledge Peers Conferences at the Sadlers Wells Theatre in London. Both of them are passionate about British Manufacturing and the products that they make.
Here, I'm interviewing David Hodge the Leader of Surrey County Council for the DMH Stallard #fastgrowth event in Guildford during the summer. David was great at stirring up the audience and flying the flag for Surrey and the South East.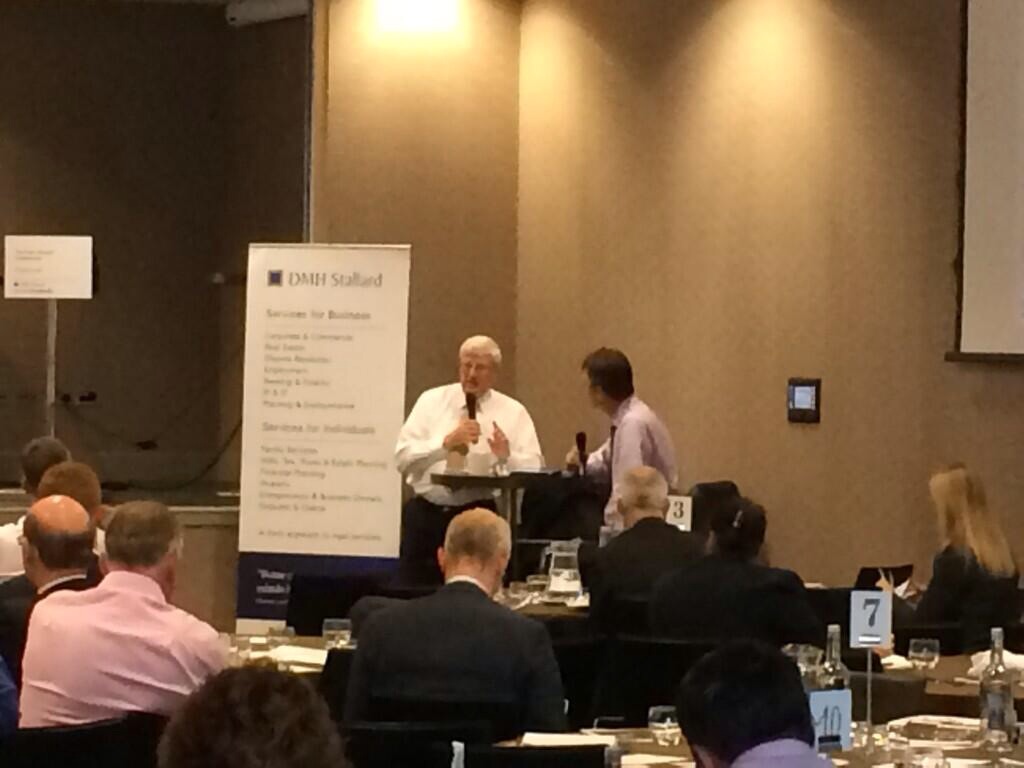 My latest article in South East Business Magazine
The full article can be found here http://www.southeastbusiness.com/print-edition/september-2014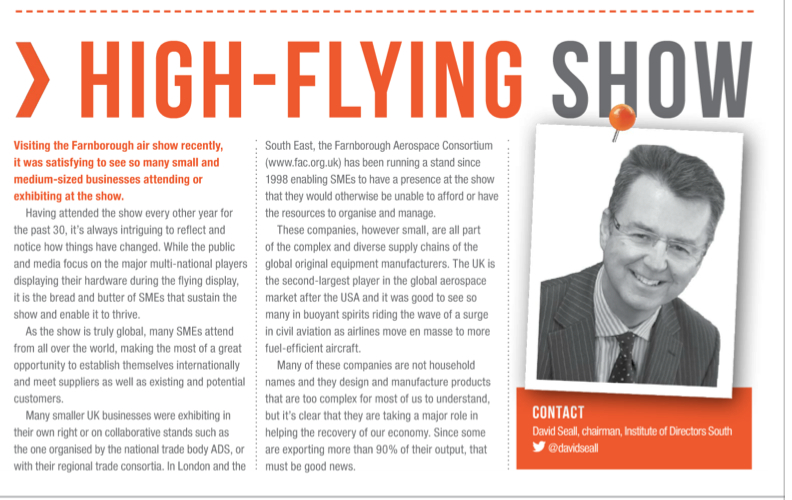 It's a great honour to have been selected to be the Regional Chairman and I'm busy now getting on with the challenge.
I will be making a point of getting out to branches during the year and seeing how branches are engaging with members and delivering events and activities. I'm keen to explore three main topics of interest during my Chairmanship, the thing that springs to mind with is is the three "p"s.
The first of these is promoting the "best Practice" of branches and promulgating these across the region. Although members are able to go to any event they want to, regardless of which branch they are members of, I'll be looking to explore which events and programmes really work well and whether they can be run by all or most of the branches to improve the value to members across the region. We will also be working more closely with the London branches to make these more coordinated with our region as I know many of you are in London during the working day. London acts a focal point for us and is an easy place to travel to.
The second strand is one of improving our impact on Policy matters. The present government has moved activities from a regional to a more "local" level. Although we could argue that some of the "local" levels are almost the same size as some old regions and that Westminster still has a big hold on things. We will be comparing what branches are doing on the local policy front and encouraging engagement and also looking at what impact we can make if we work more closely together. We all know that the South has major issues with things like infrastructure, affordable housing and skills so we will be looking to make an impact in those and other areas.
The final area we will be working on is to "Punch our weight" with major stakeholders in a more joined up way. This may either be to obtain sponsorship for events across the region, promote regional/national initiatives that will benefit members or do more "combination" activities where branches work together. To me the IoD is about promoting the best standards in leadership to its members. We can do this at branch level by providing events and programmes that provide information or learning experiences that encourage a development of leadership skills and entrepreneurship.
It's a hugely and enjoyable role to have and I'm enjoying working with the branch Chairman across the region to see how we can make a difference and help businesses of all sizes thrive and grow.