For the last six years I have been producing thought leadership reports with colleagues from the DMH Stallard LLP team.
They cover topics such as protecting IP, exporting, ethical business, maximising cash in a business and data security in the "cloud"
I hope you find them interesting and am happy to hear your comments and discuss the findings and conclusions. You will find them plus other contributions from me on the DMH Stallard website 
DMH_Stallard_Report_Ethics_and_Compliance_FINAL
Secure Your Data – Protect Your Business distribution copy 2
Maximising Cash and Maintaining Working Capital PDF copy
2nd export Manufacturing report 2015_final

One of the key issues holding back charities is the fight for sources of funding and income and the battle to reduce operating costs.
Working closely or partnering with outer charities is sometimes the answer.
More often than not it's the Trustees of the charities that hold things back, perhaps due to vested interests when the Executive can see partnership can significantly add value.
The attached paper was written six years ago but still rings true

I guess amongst all of the current concerns causing uncertainty for businesses, a major one is  immigration. Coming from a manufacturing background I realise how dependent many companies have become on migrants from central europe to plug serious skills gaps caused either by an education system geared toward academic qualifications rather than vocational skills or difficulty finding people with the correct work 'ethic".
Heer's my latest article in South East Business magazine discussing the topic.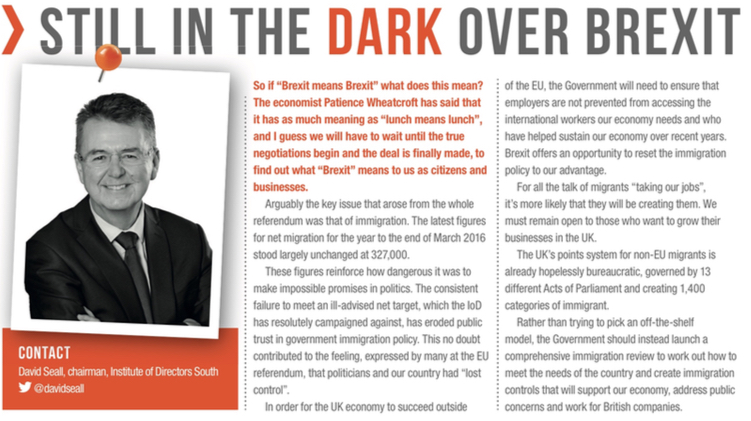 The article can be found here 

Some readers will have heard of "Industry 4.0". This is the fourth industrial revolution which will revolutionise both manufacturing and our society as a whole.
Alongside things such as additive manufacturing (3d printing) and IoT (the internet of things) Industry 4.0 will introduce a serviced economy. This will open up a whole new set of challenges for manufacturers to embrace.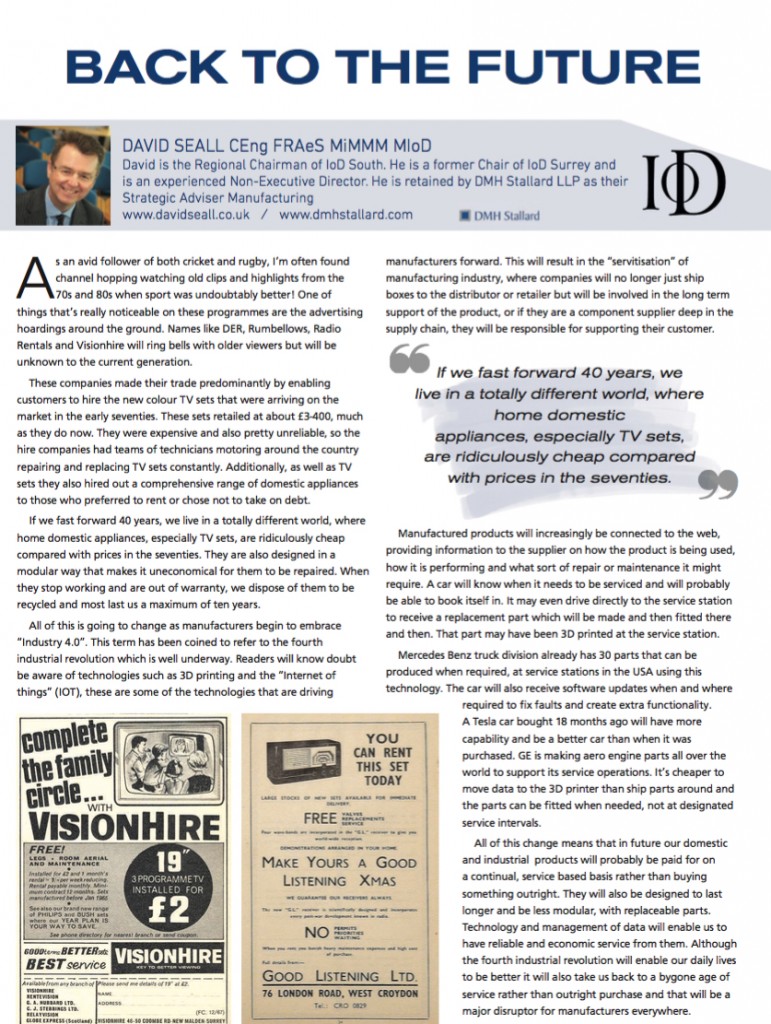 the original article can be found here 

I've attached some of my recent articles in the press in both Platinum Business Magazine and South East Business magazine.
I've tried to tackle some very controversial subjects and give a pragmatic view- at least I've hoped so!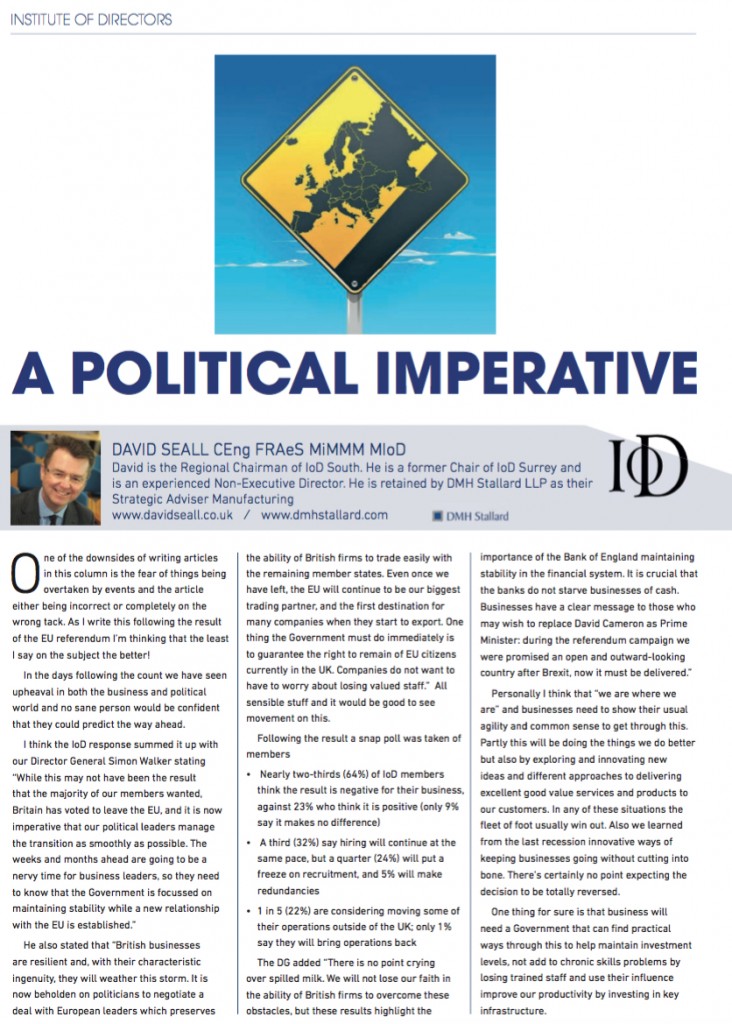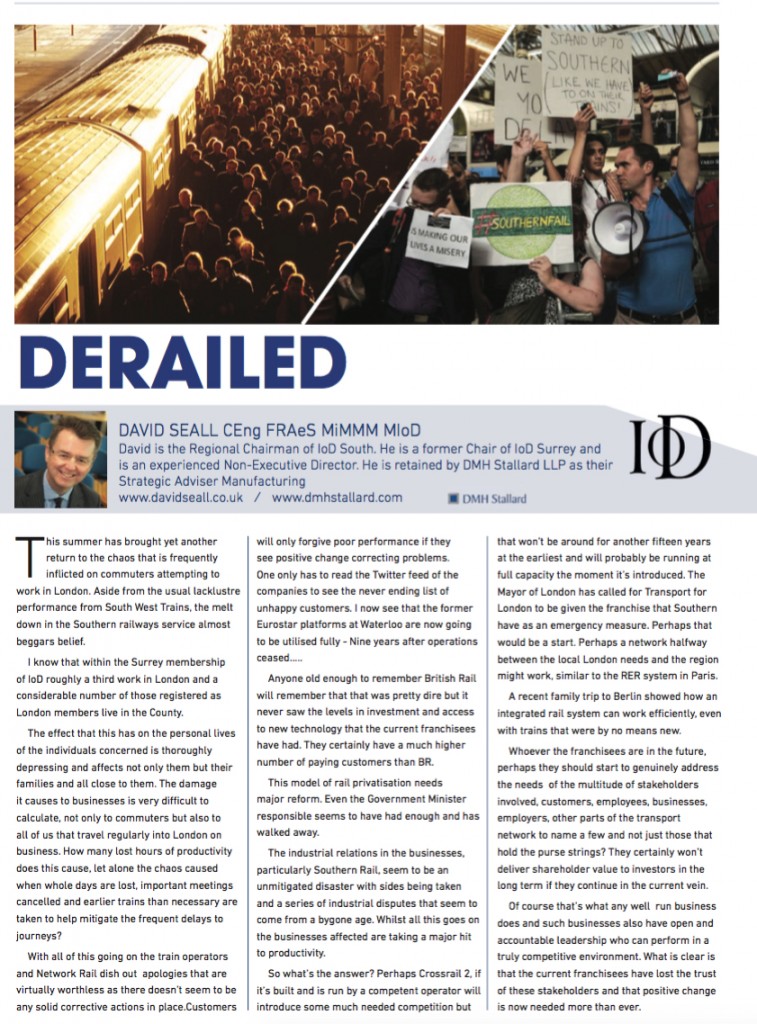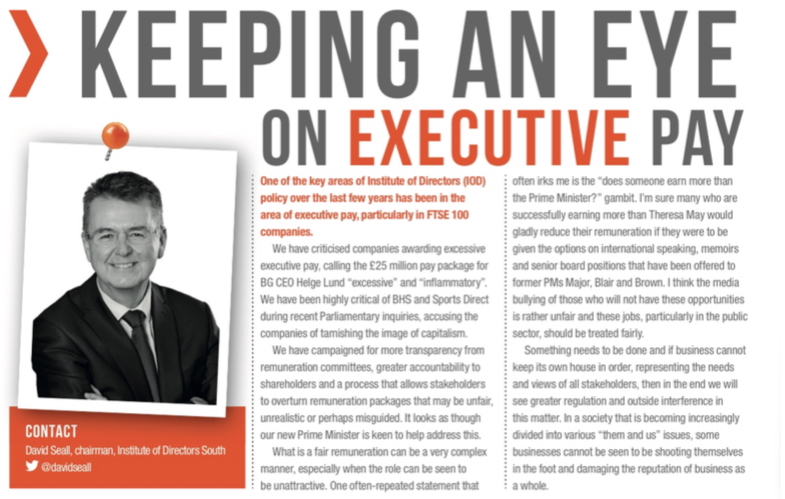 My latest article in Platinum business magazine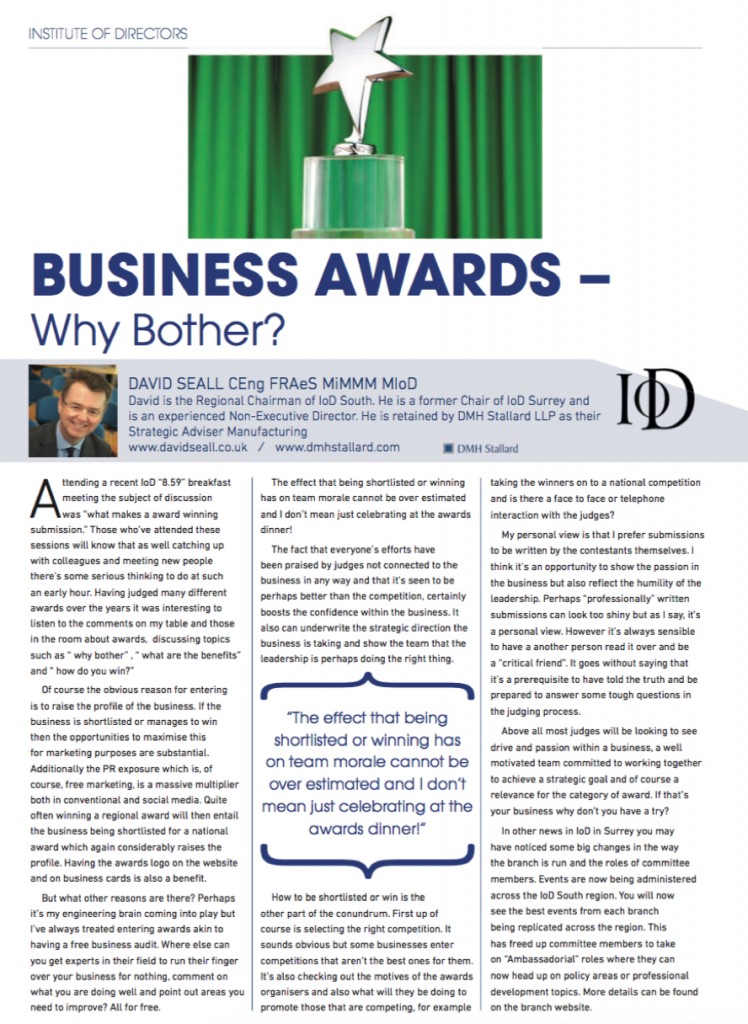 The magazine article can be found here

Here's my latest article in South East Business magazine discussing an issue where progress still needs to be made.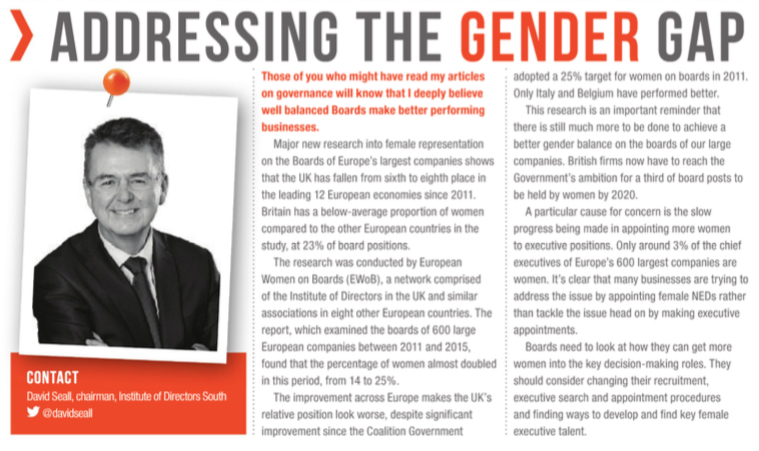 The published article can be found here

My recent article in Platinum Business magazine discusses the IoD's recent paper on Lifelong Learning. This document recognises the fundamental changes that are approaching us as a society and details the type of education policy and learning environments we will need to cope with the demands of the 21st century.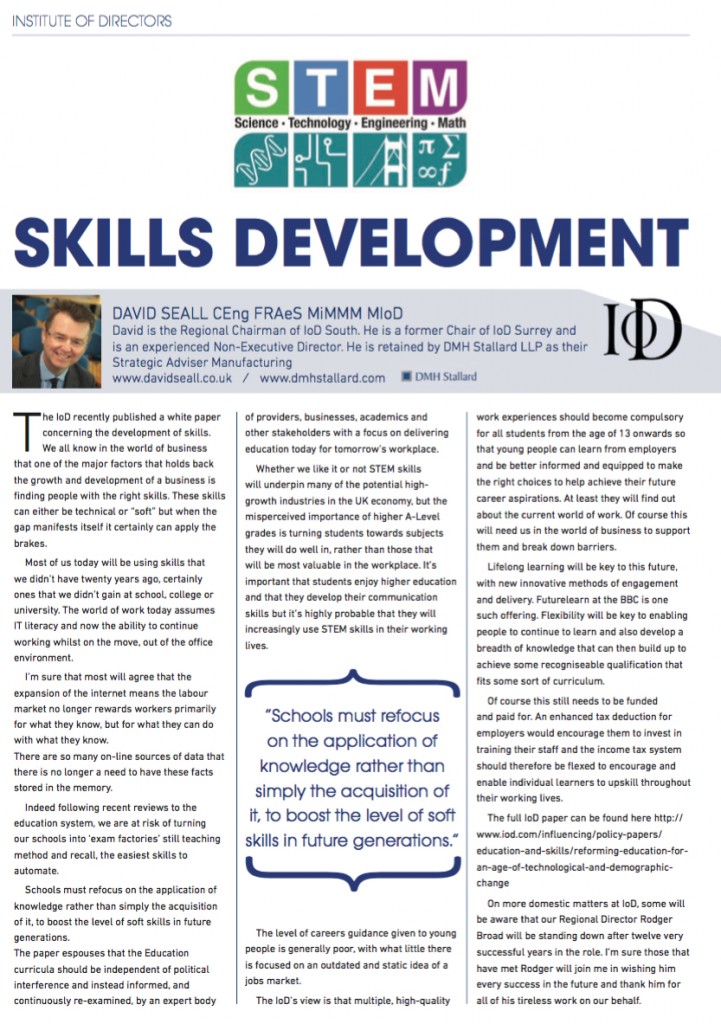 The report in full can be found here 
The current issue of the magazine can be found here

My latest article in Platinum business magazine looking at the future outlook of the economy and a review of the budget.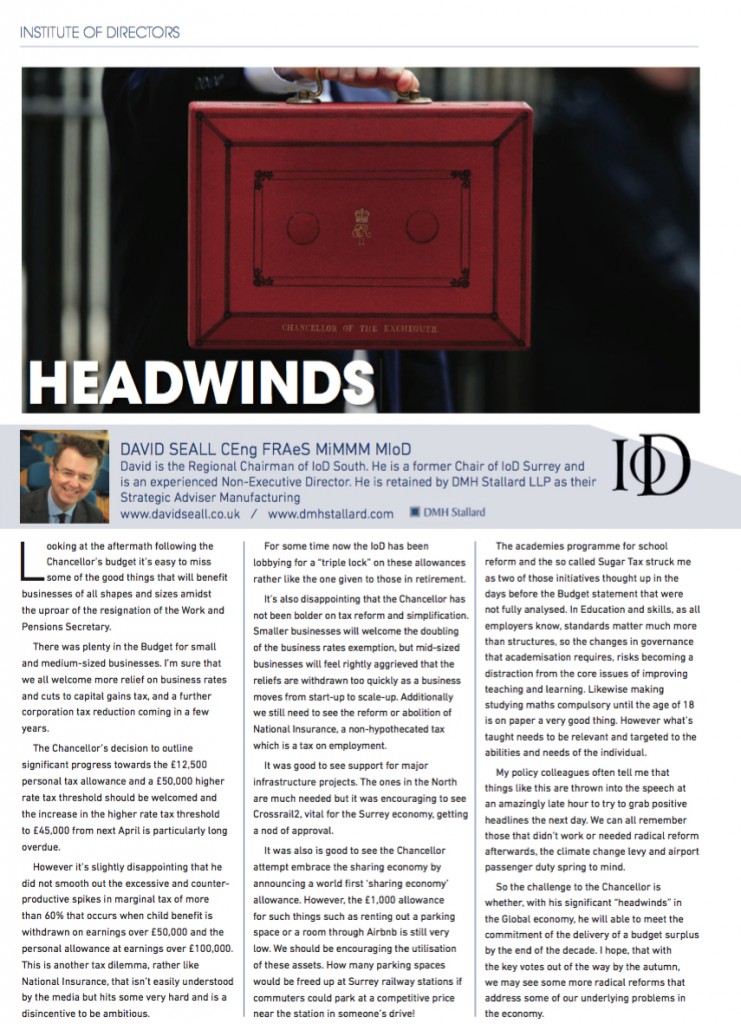 the full magazine can be found here

My latest column in South East Business Magazine discussed the current poor performance of communications, both mobile and fixed line broadband, in this country.
At the same time, my IoD colleague Dan Lewis produced a report echoing my concerns on the subject stating
"Now is the time to set a bold new target for genuinely world-beating broadband. We have the leading internet economy in the G20, and yet download speeds are mediocre and the coverage of fibre optic cable is woeful. The demand for data is growing exceptionally fast, and with Virtual Reality and the Internet of Things just around the corner, about to grow even faster. But our network is behind the curve. Unfortunately, the Government's current target displays a distinct poverty of ambition."
I can't help but agree!
The IoD article and report can be found here.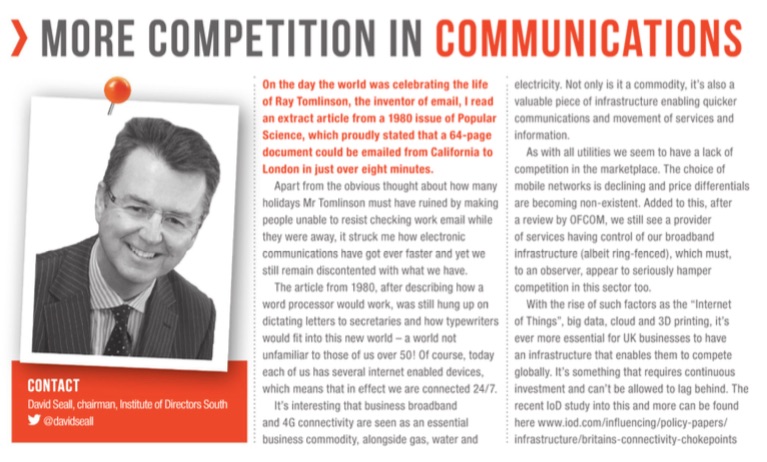 The South East business magazine can be found here